Dance Institute of Washington Brings Culture to the Community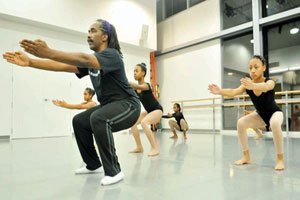 Following in the Footsteps of Black Dance Legends of Mitchell and Ailey

Seven years ago, Fabian Barnes conducted a dance workshop at the Sacred Heart School in Northwest as part of the Dance Institute of Washington's (DIW) outreach program and piqued the curiosity of Laurel Constantine, a second grade student, who attended the workshop.

Now, the 13-year-old takes classes in ballet, modern dance, jazz and hip hop in the pre-professional program at DIW after school and on Saturdays. Laurel is currently in rehearsals for DIW's holiday performance "The Magic Kente Cloth," an enchanting tale that weaves classical, modern and African dance into the fable. Performances are scheduled, Mon., Dec. 21 and Tue., Dec. 22 at the Gala Theatre in Northwest.

Cherry Anne Constantine, Laurel's mother, said that the dance classes at DIW have helped improve her daughter's self-esteem.

"Laurel is more outgoing and her personality reflects her dancing," Constantine, 39, said. "It does so much for her. I'm so appreciative of what Fabian Barnes is doing for the young people in the community by bringing the fundamentals of dance to them, showing them what dance did for him and what dance can do for them," said Constantine who lives in Northwest.

Barnes, 49, is a native of Seattle, Washington. As a young boy, he tagged along to a dance class with his older brother Don and never looked back. By Barnes' 16th birthday he had performed as an apprentice with the Pacific Northwest Ballet in Seattle, Wash. In 1979, Barnes began his 15-year journey as a dancer with the world renowned Dance Theatre of Harlem (DTH), where he was quickly promoted to a soloist.

Barnes said that dance ultimately saved his life.

"If I hadn't had dance, I would have ended up like so many of my peers -- on drugs, in jail or dead. It set my life course," Barnes said.

DIW started as a summer intensive program for the District's youth in 1987. Barnes rented dance studios on the campus of George Washington University in Northwest and hired fellow dancers from New York to teach and choreograph dances for District youth. DIW would produce an end-of-the summer concert at the university's Lisner Auditorium for family, friends and dance enthusiasts.

By 1998, Barnes had retired from DTH, relocated to the District and began running DIW as a year round dance school.

Like many Black dance schools in the D.C. area, Barnes said, DIW struggled to find adequate space until he purchased a vacant lot on 14th Street in Columbia Heights in Northwest and secured the funding to build a $5 million facility.

"We were all over the place," Barnes recalled. "We were at the African Methodist church store supply basement on 11th Street [Northwest]. I rented a studio at the Stable Arts Center. We rented space at the Friendship House, then the Perry School on New York Avenue and then finally here [on 14th Street]."

Ayanna Quander leaps during a rehearsal at the Dance Institute of Washington. Photo by Khalid Naji-Allah
Barnes said that when he searched for a permanent home for DIW, he knew that he wanted it to be within the Columbia Heights community.

"At the point that we started looking for a home for DIW, Columbia Heights was still very desolate. There were a lot of vacant lots, graffiti and drug activities. We wanted to be here because this is where people needed programs the most, where there's not a lot of hope and that comes from my exposure to Mr. Mitchell's dream and my experience with DTH."

In addition to the pre-professional program, DIW holds community dance classes during the week in tap, hip hop, ballet, African and jazz for children and adults.

Barnes said that he never abandoned his dream to establish a dance school where Black dancers in the District could train and be nurtured as artists just as founder of DTH Arthur Mitchell and Alvin Ailey had done for young dancers in his generation.

"For a long time I had blinders on, even though I knew I was dealing with a lot of obstacles, I always tried to keep my goals bigger than my obstacles," Barnes said. "So by being able to dream and the dream being along the lines of Alvin Ailey American Dance Theater and the Dance Theatre of Harlem, that this would be a place where African American dance artists can find meaningful employment and provide young performers with a meaningful experience as a company member a place to train and just a place for the voice of African American dancers in the metropolitan region and beyond," he said.

DIW turned out to be that place for Amber Mayberry, a former DIW student and graduate of Wilson Senior High School in Northwest.

Bevara Anderson practices a choreographed dance move at the Dance Institute of Washington. Photo by Khalid Naji-Allah
Bevara Anderson leaps through the air at the Dance Institute of Washington. Photo by Khalid Naji-Allah
Mayberry, 26, began training at the Washington School of Ballet, but met Barnes during a residency program at DTH. She said that she reconnected with Barnes when he began running DIW full-time.

Today, Mayberry is a professional dancer with the Spectrum Dance Theatre in Seattle, Wash., led by legendary musician turned choreographer Donald Byrd. Mayberry will perform as a guest artist in the upcoming "The Magic Kente Cloth."

"I think that the Dance Institute [of Washington] was a haven for young, Black dancers. The older I get the more I realize what it was," Mayberry said. "I went everyday and there were so many opportunities to perform and be featured, which made me comfortable with performing," she said.

"DIW gave me individual attention, helped with opinions on schools and helped me get ready for college. It made me a really focused individual because there was someone telling me that I can do it if I could stay with it and be disciplined."

Laurel continues to attend classes at DIW and volunteers by helping out with the hip hop class on Saturdays. She said that she hopes to one day be a professional dancer like Mayberry.

"Before coming to DIW, I didn't really dance that much and I was kind of shy," Laurel said. "But now I want to be a dancer and choreographer. DIW has helped me to realize my goals."

For more information on DIW or to purchase tickets for the upcoming production, "The Magic Kente Cloth", call (202)-371-9656.