Murals Bring Graffiti Artists and Youth Together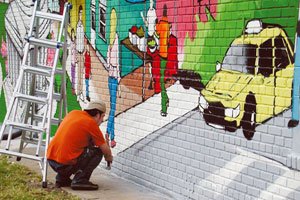 District Agencies Unveil New Works of Art

The D.C. Commission on the Arts and Humanities (DCCAH) and the Department of Public Works (DPW) have teamed up to battle illegal graffiti by putting youth side-by-side professional graffiti artists to paint murals in District neighborhoods.

Murals DC, a District government arts program, kicked-off a tour of six vibrant new murals in Wards 1, 4, 7 and 8 on Fri., Dec. 11 at the Walter Pierce Park in Northwest.

"This [Murals DC] is all about first and foremost art, but it's also addressing an issue that we do not like- -graffiti tagging," said Council member Jim Graham (D-Ward 1), who chairs the Committee on Public Works and Transportation and also funds the MuralsDC program.

"We have found that this program accomplishes a great deal of things; it harnesses the energies of young people in a way that really contributes to them and to us, it gives us all something to look at and be inspired by. We want to support our artists and we want to support our artist community and we want our neighborhood to be more and more beautiful," Graham said.


Murals DC began in 2007. The D.C. government program has created 20 murals across the city since its inception.
William O. Howland, Jr., DPR director said that in 2008 more than 1,000 residents submitted complaints to his agency regarding illegal graffiti tagging.

"D.C. spends a significant amount each year to remove graffiti," Howland said.

"Our agency works with DCCAH to identify walls that are frequently tagged with illegal graffiti. To date, very few walls have been retagged, which means safer, cleaner neighborhoods where citizens can live, work and have fun," he said.

Gloria Nauden, executive director of DCCAH agrees.

"There is an unwritten code of respect that is observed by street artists, which generally keeps walls with art murals from being tagged by others," she said.

"We are looking forward to this continued partnership so that we can continue to transform and revitalize other areas of the city" she said.

Community organizations that include Words, Beats & and Life (WBL) in Northwest and Helping Inner City Kids Succeed in Southeast use young people as apprentices from their programs and engage the surrounding communities to ensure that the murals are culturally relevant to its residents.

Mazi Mutafa, executive director of WBL, said that the mural on 14th Street, entitled "My D.C.", in Northwest reflects more than the tourist attractions that are usually depicted in murals throughout the District. For example, on the left side of €My D.C.", the Washington Monument and the Capitol sit across from a residential neighborhood with families walking down the street, homes and businesses.

"This piece is about perspective and about reflecting a thriving community. When most people think of Washington, D.C., they usually think of downtown but don't really think of the neighborhoods," Mutafa said.

"This is a thriving District neighborhood with families, businesses and entrepreneurs. It's really designed to reflect all of what D.C. represents. The reason why [the mural] is [entitled] "My D.C" is because we want it to reflect the fact that the entire city belongs to its residents."

Fifteen students from the D.C. Urban Arts Academy, WBL's after school program, worked with Tim Conlon, a native Washingtonian and well-respected graffiti artist, on the "My D.C." mural.

Mutafa said that this experience meant more to his students than just having a legal place to paint.

"This was an opportunity for young people to work with professional artists for the first time on a major project," he said.

In addition to providing opportunities for youth to work with professional artists, independent artist Aniekan Udofia said that murals are vital components of a community. Udofia, a 34-year-old resident who lives in Ward 1, said that he has created more than five murals scattered throughout the city. He said that his mural entitled "Walter Pierce Park," represents the rich diversity of the D.C. community with birds emerging from a globe in front of the District of Columbia flag. Udofia said it represents people fleeing their native lands in search of better lives.

"Murals are very important because they add a little bit of flavor to the area," Udofia said.

"Murals change the environment and beautify neighborhoods by creating something more welcoming to the eye," he said.

For more information on the murals tour and to hear artists" commentary on murals in the tour, call (202)-292-2565.