Marion Barry Undergoes Kidney Transplant
Esq | 2/23/2009, 11:29 a.m.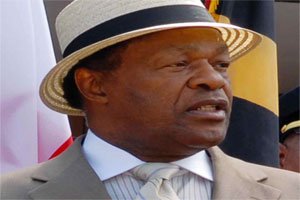 Former district Mayor and current Ward 8 councilman Marion Barry underwent kidney transplant surgery on Sat. Feb. 21 at Howard University Hospital. The six-hour procedure was made possible by Kim Dickens, a 47-year old Ward 6 resident, who donated the kidney Barry received.

Unlike many transplant recipients, Barry€s new kidney did not come from a relative or a deceased donor. Dickens became aware of Councilman Barry€s kidney condition when she and a group of other Barry friends were having a conversation with the Councilman. Barry shared that he was on a wait-list to receive a kidney transplant and asked the group whether any would be willing to help. The very next day, Dickens got tested and within 24 hours the results came back; Dickens was a match.
According to Howard University Hospital€s Dr. Clive O. Callender, founder of the National Minority Organ Tissue Transplant Education Program, kidney transplants don€t happen often in the District of Columbia, particularly for 72-year old African American men.

After the procedure, Barry€s aides announced the Councilman hopes to soon return to work to champion the cause of organ donations and fight harder so others in the District have access to the same quality medical treatment that helped save his life.

Barry is currently the longest serving District politician. When Dickens was still a toddler, Barry arrived in Washington to open up a local chapter of the Student Non-Violent Coordinating Committee (SNCC) in 1965. Barry immersed himself in community organizing by coordinating peaceful demonstrations, founded a program to offer job training to the unemployed, and led the Free D.C. Movement, a group that pushed for full political rights for District residents.

Barry€s leadership in this movement helped District residents win the right to elect their own school board. In 1971, just seven years after his arrival to Washington, Barry was elected as one of the first members of the District School Board.

Barry was elected as an at-large member of the District Council in 1974, and chaired the Finance Committee where he was credited for helping put the District€s finances in order. Barry was reelected to the Council in1976. Two years later, helped by a rainbow coalition - senior citizens, liberal whites, poor blacks, Hispanics, women, labor leaders, art activists, and others - Barry was elected the District€s second elected mayor, defeating incumbent Mayor Walter Washington and Council Chairman Sterling Tucker. In following years, Barry served three more terms as Mayor and was elected to the Council three more times.


While Barry€s surgery appears to have been a success, he still has legal issues to confront. Earlier this month, prosecutors asked a federal judge to jail Barry for failing to file his 2007 tax return. Barry, who turns 73 on March 6, has since filed the late tax return, according to Bernadette Tolson, the Councilman€s Chief of Staff.

Talib I. Karim, Esq. writes on health care, environment, and other public policy matters, and can be reached at 202-466-3830.