How to grill the big-cut meats for a crowd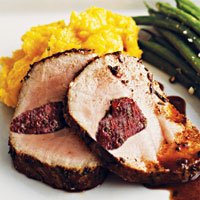 One of the best ways to feed a summer crowd is to grill a big cut of meat or poultry. If you've never done it, you might be intimidated, but you shouldn't be. It's much easier than doing a lot of individual steaks or chops, which need to cook over a hot fire to get that perfect sear, then must be watched carefully to prevent flare-ups.
In contrast, roasts cook leisurely over indirect heat, with little fussing necessary. You're really grill-roasting, emphasis on the second word. That means long, slow cooking that leaves meat tender, with an enticing smoky flavor.
Start by firing up a gas grill (or building a hot fire on one side of a charcoal grill). Turn off two of the three (or one of the two) gas burners, setting the roast on the cool side. Once the pork or beef roast is done, turn all burners on high (or move roast to the hot side of a charcoal grill) and quickly brown the meat to ensure good color and flavor. To crisp the turkey skin, reverse the order, browning the turkey breast over direct heat first, then finishing over indirect heat.Many grocery stores and food warehouses sell whole pork loins. If you don't want to cook such a large roast, buy a 3 1/2- to 4-pound loin and halve the remaining ingredients. Because a smaller roast is shorter, not thinner, the cooking time is not much different.
12 large garlic cloves
6 Tbs. olive oil, divided
1 pound fully cooked chorizo sausage, cut into large chunks
1 cup cilantro leaves
1/4 cup chipotle peppers in adobo sauce from a 7-ounce can
3/4 cup dry bread crumbs
3 Tbs. ground cumin
2 Tbs., plus 2 tsps. kosher salt
1 Tb., plus 1 1/2 tsps. ground black pepper
2 Tbs. ground paprika
2 Tbs. brown sugar
1 8-pound whole pork loin
Heat garlic cloves and 3 Tbs. of the oil in a small skillet over medium heat. Once garlic starts to sizzle, reduce heat to low and continue to cook, turning cloves once or twice, until soft and golden, 5 to 7 minutes.
Meanwhile, place chorizo, cilantro, chipotles, bread crumbs and 1 Tb. of cumin in a food processor; add garlic and its oil. Process until ingredients are finely ground; set aside.
Mix remaining 2 Tbs. cumin along with 2 Tbs. kosher salt,1 Tb. pepper, paprika and brown sugar in a small bowl; set aside.
Lay pork loin on a sheet of plastic wrap, fat side down. Leaving a 1/2-inch border at each end, slit pork loin lengthwise down the center -- but not all the way through -- to form a long pocket. Brush cavity with 1 Tb. of oil; sprinkle with remaining 2 tsps. salt and 1 1/2 tsps. pepper.
Pack cavity with sausage mixture, alternating between ends so roast is evenly stuffed. Tie crosswise with butcher's twine at 1-inch intervals. Brush roast with remaining 2 Tbs. of oil and sprinkle all over with spice mixture, rubbing it in with your hands.