ANC Silver Scores Victory in Fight over Parking Lot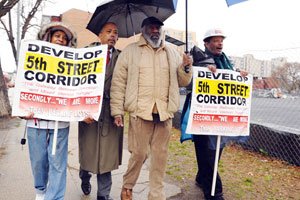 ANCs, the Voice of Residents, Dismissed by Fenty Administration

A Ward 6 Advisory Neighborhood Commissioner and his supporters won a concession from the Fenty administration in a dispute over a temporary parking lot.

Advisory Neighborhood Commissioner Keith Silver of 6C01 led a series of protests at the 5th and I Streets N.W., construction site over the past several weeks because administration officials proposed building a makeshift parking lot without the approval of the ANC.

The persistent outrage from residents over the parking lot, Silver said, caused officials from the Office of the Deputy Mayor for Planning and Economic Development to contact him and request a meeting that will include several community leaders to discuss the matter.

"This is a small victory," Silver, 58, said.

"What we really want is for this administration to move forward to engage the community and communicate with local leaders. They re-created a whole other project behind closed doors,€ he said.

Silver said that he has issued a moratorium on the protests until the meeting with officials from the deputy mayor€s office takes place.

The 5th and I Streets, N.W., site will eventually become a hotel as a part of the development plans for the Mount Vernon Triangle space, north of the downtown area, but close to the bustling Chinatown district. The temporary parking lot was proposed as a fill-in for the site and approved by Donohoe Companies and Holland Development Group.

But city officials failed to consult the ANC about the proposed parking lot and that€s what prompted Silver to mount a protest.
Advisory Neighborhood Commissioner Keith Silver protests at a construction site near 5th and I Streets in Northwest. Photo by Victor Holt

The ANCs, long considered as being the neighborhood mainline to District government, affords them €great weight and authority€ to decisions made by the commissioners.

However, there have been persistent complaints throughout the city that the Fenty administration has ignored the ANCs, Silver said.

€The developers met with the Office of the Deputy Mayor about this site 100 times and the community did not know anything about a parking lot," Silver said.

"The community would rather have something, like a dog park, rather than another parking lot," the commissioner said.

The protests held throughout the month of March and in April, attracted the attention of civil and human rights activist Dick Gregory and the Rev. Anthony Motley.

Gregory supports Silver€s actions because €this is a project funded by taxpayer money and it is in the public domain.€


Silver said that he wants neighborhood input to be included -- and on the record.

€The community has to be kept abreast about what is going on,€ he said.

€The government is not being democratic and what makes it so bad is that Fenty himself is a former ANC,€ Silver said.