A March for Babies in Prince George's County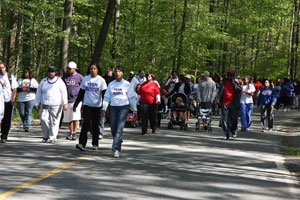 A pleasant walk through the park by area residents on a cool spring morning brought in $136,000, for infant advocacy and research.

About 500 area residents participated in the March of Dimes March for Babies walk, Sat., April 17 at Watkins Park in Upper Marlboro, Md. Individual walkers and walking teams raised sponsorship money for the March of Dimes Foundation, which fights premature birth and infant mortality through awareness initiatives and research.

"We always try to support the March of Dimes in all their fund raising efforts," said Tera Campbell, 40, of Upper Marlboro, Md., who was there with a group of about 50 walkers from Zeta Phi Beta. The sorority raised about $2,000 dollars for the event.

The Top Ladies of Distinction, a service organization, who had about 30 walkers, also raised about $2,000 in pledges for the walk. Their fund raising was led by Bria Williams, 16, who is part of their Top Teens of America program.

"We try to get each of our Top Teens an initiative they can take the lead on," said Jackie Wilcher, 45, of Brandywine, Md., who is president of the Prince George's County chapter. "They took the lead coordinating the effort for this March of Babies program"

Fraternities and sororities from Bowie State University performed step routines as walking teams gathered together and completed the registration process. As the weather began to warm up, walkers set out for an hours stroll along a wide, winding paved path through the trees. Several "Spirit Tables" were set up along the route, with representatives of various sponsors cheering the walkers on.

"We're just encouraging the walkers on their way," said Anna Christie, of Bowie, Md., at the Spirit Table hosted by Zeta Amichae of Prince George's County. As the walkers completed the course and returned to the tent area, they were greeted with music, food, and information on prevention of infant mortality. Maryland has higher infant mortality than the national average. Within Maryland, Prince George's County has the second highest infant mortality rate, after Baltimore city. The major causes of infant mortality in Prince George's County are premature birth and Sudden Infant Death Syndrome (SIDS). The causes of premature birth and Sudden Infant Death Syndrome are not fully understood.

However, in order to reduce premature birth, Dona Dei, State Director of Program Services for the March of Dimes, emphasized the need for prenatal care, and for potential mothers to take care of themselves even before they know that they are pregnant, because many pregnancies are unexpected. To reduce the chances of Sudden Infant Death Syndrome, infants should sleep on their backs, on a hard mattress, without blankets or toys nearby.

The March of Dimes also advertises the text4baby service offered by the National Healthy Mothers, Healthy Babies program. Expectant mothers can text by (or be for the Spanish version) to 511411 to enroll in the program. Text4baby will then regularly send free texts with tips regarding pregnancy and infant care, individually tailored to the mother's pregnancy time line.