Jonathan Butler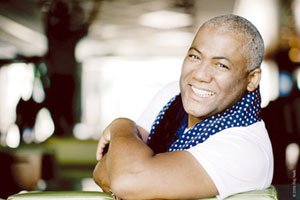 Once you hear the feel good songs of joy, promise and love in Jonathan Butler's, So Strong, the average listener would never imagine the string of events that inspired the album were anything less than blissful.

But that wasn't the case.

Butler, survived a turbulent year that included the death of his mother and the loss of his close friend Wayman Tisdale, former NBA star and jazz musician in 2009 at the age of 44. He also served as an anchor throughout his wife's battle with cancer. The album, So Strong, scheduled to be released Tue., May 11, reinforces Butler's belief that music cures the soul.

"Music is spiritual and it heals. It soothes the heart and mind," Butler, 49, said.

The CD, So Strong will be the 15th solo collection for the Cape Town, South African born singer-guitarist and songwriter. The Grammy-nominated musician returns to his roots with his first urban contemporary recording in years. Butler, who is most commonly associated with adult contemporary, smooth jazz and gospel recordings, doesn't disappoint.

I talked with him recently about his latest release (...after he informed me that he needed to delay our interview for 15 minutes while he picked up his granddaughter, the love of his life, from school). Well, I certainly couldn't argue with that. I quickly realized that the same positive vibe that flows throughout the album mirrors his jovial personality.

LH: I listened to So Strong and the songs put me in a cheerful mood. I was surprised to learn about the daunting challenges you faced last year. How did you create such joyful music?
JB: Well, I'm glad it evoked those emotions in you because that is what I wanted the music to be about. I was in a different season when I wrote this album. Last year, was one of those challenging seasons that we all experience. I wasn't prepared for Wayman's passing.

Fortunately, I was with my mom in Cape Town when she passed. I had all of these old grooves that were put down in a different season. They were perfect for right now and they were calling me. My wife, who is fully restored, loved it. My kids loved it. We're all very positive and we're very thankful.

LH: Explain the inspiration for some of the tracks.
JB: "Color Green" was the first song that I wrote. Jill Scott inspired this song. It follows the neo soul way of flipping your thoughts and feelings. Green is my favorite color, but it's not about money. It's about God. Green is earthy and natural. "Avia/For My Baby" is about my granddaughter. She is the love of my life. Also, "I'm Right Here" is one of those old school R&B songs that you used to play in your basement when you were begging.

Then, there's "You Got to Believe in Something" [which] came to me while reading scriptures. One of my favorites on the album is "Factual," where I express my freedom and liberty. As with anything I do, it's got a spiritual thread woven throughout.

LH: You've released numerous albums, but this is your first urban contemporary release in years. Why did you return to the genre? Did you feel something was missing from radio today?
JB: I don't really pay attention to what the radio plays. I wanted to do something edgy and fun and, I wanted to go back to the 80s. I come from the urban world and this home-brewed album showcases my freedom to do what comes naturally. I wanted the lyrics to reflect a positive love message and be danceable. Plus, my daughters liked it. So, I knew it was alright!

LH: This may be the first time that young listeners - an entirely new audience -- experiences your music ... what do you hope they take away?
JB: Having new fans is great! As an artist, it's about evolving and recreating yourself because sometimes we get stuck. I hope I'm able to turn them onto jazz, gospel, love songs and even inspire their interest in learning about South Africa, which will always be my homeland.