Black Farmers Still Waiting to Collect on USDA Race Settlement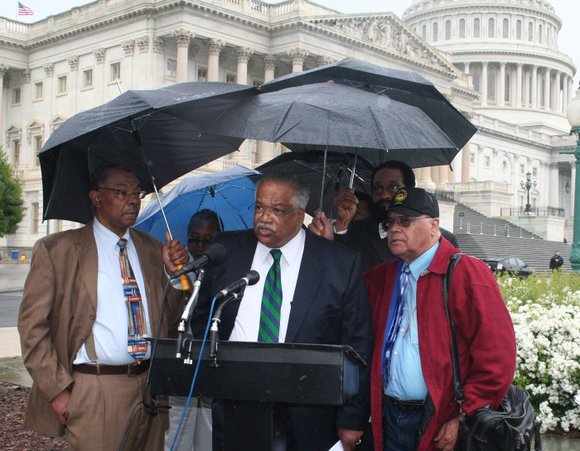 Ralph Paige, executive director of the Federation of Southern Cooperatives/Land Assistance Fund, during a Capital Hill press conference, and Black famers who have still not collected on the $1.2 billion USDA race discrimination settlement promised to the by the federal government. Photo Courtesy of Pharoh Martin

Like many Black farmers around the country, Willard Tillman is waiting. He's been waiting for more than a decade to collect on a settlement from the government for being discriminated against by the United States Department of Agriculture. But waiting is all he can do for now because the government that owes him is still dragging its feet to pay him.

Tillman is one of thousands of African-American farmers who is due to collect part of a $1.25 billion dollar settlement from the government but is unable to collect because Congress has yet to appropriate the payout. Congress had until the March 31 congressional recess to appropriate the amount before plaintiffs could opt out of the settlement and pursue individual litigation. No farmers, including Tillman, have opted out as of yet.

"I believe the system will work in our best interests because this is supposed to be law," said the a 63-year-old Tillman from Seminole County, Okla." The case in which Tillman is a litigant, widely known as "Pigford II", is an extension of the "Pigford case", a 1999 class action lawsuit against the USDA that stem from decades of discrimination against Black farmers with its services and credits. The $2.4 billion dollar settlement in the Pigford case was the largest in civil rights history.

Class members of the original case had a certain amount of time to file a claim and have it adjudicated in order to collect their payout. But because of a failed notification process an estimated 65,000 eligible farmers filed late and were left out in the cold simply because they were improperly notified.

"What happened was that the notice of this particular case was not properly distributed into our communities," Tillman said. "And as a result of that, we ended up filing after the October cutoff date."

Pigford II is set to correct that by giving another opportunity for late filers to collect their payout. The case of the Black farmers, wronged by the federal government simply because of their race, has dragged on for years. Several times recently it appeared to finally be over, but has now fallen back to struggle.

President Obama and agriculture secretary Tom Vilsack announced in February that a $1.25 billion settlement has been reached for Pigford II. But, as of now, only $100 million dollars from the 2008 Farm Bill is available. The rest of the funding must be appropriated by Congress.

"We're talking about much more than the money," said Ralph Paige, executive director of the Federation of Southern Cooperatives/Land Assistance Fund, during a press conference at the U.S. Capitol. "We're talking about remedying past discrimination and going further with a stronger and better agricultural system and country."

Paige called the uncollected settlement a "small amount of money" that will, in effect, be used to help sustain the American agricultural system. Paige and Black Farmers and Agriculturalists Association president Gary Grant called the press conference to urge Congress to include the remaining $1.15 billion dollars in the next fiscal budget.

Grant said that it's going to take more than just Black farmers to convince Congress on this issue. He said that "People who eat food need to understand that this is about them as well."

He continues, "We spend a billion dollars on a jet to bomb somebody ... We're talking about a billion dollars to help feed our country. So I just don't see why Congress and the president can't go ahead find it."

Meanwhile, the offenses by the federal government continue to mount. Even though some claimants never collected on their portion of the settlement they were still taxed on the interest that their award accrued. They are getting taxed on income they have yet to receive.

"No one explained the process to them and so basically, they went from being indebted to the USDA to being indebted to the Internal Revenue Service," Grant said. According to Grant, since the payout has been delayed Black farmers have been put off their lands, lost their homes and their credit has been ruined.

"The leadership is very aware of the urgency of this matter. I predict to you that it will happen sooner than later," said Rep. G.K. Butterfield (D-N.C). Butterfield represents Timothy Pigford's congressional district. He filed the 1999 class-action lawsuit against the USDA. When asked about why Congress is dragging their feet Butterfield raised the nation's fiscal concerns as the reason.

"We are $12 trillion dollars in debt," Butterfield said. "This fiscal year we are looking at $1.5 trillion dollars in deficit. We cannot be unmindful of our principle dilemma. And nor can we unmindful on the need to settle with the Black farmers. Hopefully, we can accomplish both of those results."

Butterfield said that if Congress wasn't able to find an appropriate vehicle to get the funding then he would support declaring the settlement as a national emergency in order to add it to the next supplemental budget when it hits the House floor.

Funding for the Pigford II settlement is held back by the congressional PAYGO rule, which, in an effort to control new spending, mandates that Congress finance expenditures with funds that are already available rather than borrow. So until Congress passes an appropriation, all farmers like Tillman can do is wait, continue pushing and keep their faith in hoping this issue eventually shakes itself out.

"My philosophy is that you can't miss something that you never had," Tillman said. "I can't put a time line on how policy and the government works. If the president wants it and he's asked for it than I'm pretty sure that it will eventually happen. It's taken ten years just to get here. Nothing is going to happen overnight."