Mystics 87, Shock 62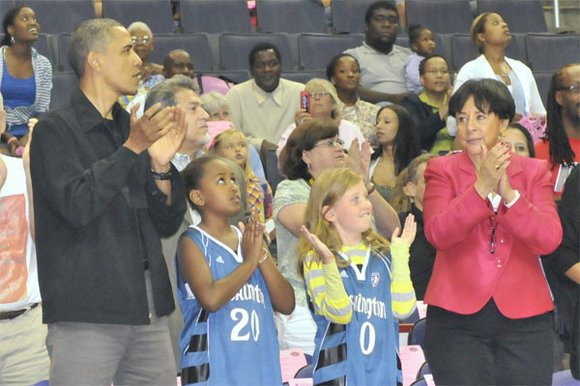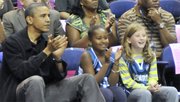 Photo by John E De Freitas


Sunday August 1,Verizon Center
Just before 4.00 pm traffic in Chinatown was at a standstill. Mystics fans trying to get to the game arrived late because the Verizon Center was on lock down prior to the arrival of the Presidential motorcade.

It was a welcome surprise for the 9.008 fans to have some very important fans attend the game, President Barack Obama and his daughter Sasha, Ted Leonis and Sheila Johnson. all sitting at courtside many times cheering for the Mystics who are trying to make it to the 2010 WNBA playoffs.

Monique Currie, Crystal Langhorne, Chasity Melvin, Katie Smith, Lindsey Harding and Marissa Coleman - hit double figures. Coleman recorded the first double-double of her professional career with 14 points and 10 rebounds

"If you've got the president of the United States here, that's the ultimate home-court advantage for us," said Marissa Coleman, who recorded 14 points and 10 rebounds for the first double-double of her WNBA career. "When you put it all in perspective not too many professional athletes get to meet the president, let alone play in front of them, so for us to be one of the select few is big for women's basketball."

President Obama saw the Mystics (15-10) win their second straight to maintain their hold on third in the Eastern Conference standings, two games behind the first-place Atlanta Dream (18-9) and maintaining a single-game lead on fourth-place New York (14-11).

"We didn't want to come in here and take them lightly but we wanted to come in and continue on a roll," point guard Lindsey Harding said. The losing streak is "over in my mind. It has to be. If we go on another losing streak like that we could be out [of the playoffs]. Each game is going to feed something to us and count so hopefully we're going in the right direction."