Redskins Win Pre-Season Opener 42-17 Over Bills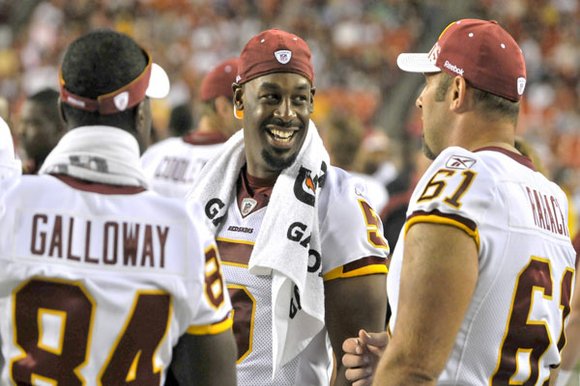 The game didn't mean anything in the win-loss column, but the Washington Redskins' 45-17 pre-season victory over the Buffalo Bills may fuel even more optimism among Redskins fans.

The 69,578 fans in attendance saw a good performance by the first-team offensive unit, led by new quarterback Donovan McNabb. The former Eagle was 5-8 for 58 yards and threw one touchdown to wide receiver Anthony Armstrong. The touchdown capped an 11-play, 80 yard drive for the starters.

"We did well," said McNabb. "The second time we went out, after our first drive, it led to us putting up some points. Then good things happen. There are a lot of things we have to work on, but I thought offensively we were able to progress today.

Backup quarterback Rex Grossman also performed well as the former Bear was 11-18 for 140 yards and two touchdowns, one to tight end Fred Davis and one to wide receiver Devin Thomas.

Defensively, cornerback DeAngelo Hall picked off a pass that led to one of two touchdowns by rookie running back Keiland Williams and the special teams managed a score via a 77 yard punt return by Brandon Banks.

The team effort by the Redskins satisfied head coach Mike Shanahan - at least for now.

"I was pleased by our effort, it was a good first game," said Shanahan. "We were off balance in the first series but we started moving the ball and we stayed away from turnovers."

The Redskins will play their second and final home exhibition against the Beltway rival Baltimore Ravens on Saturday, August 21 at 7 PM. This will mark the return of former Redskins Head Coach Jim Zorn to FedEx Field. Zorn is now the quarterback coach of the Ravens.




Wide Reciever Joey Galloway (l) andCenter Casey Rabach (r)talk over play
selection withquarterback Donovan McNabb. Photo By John E.DeFreitas.



Redskins running back Ryan Torian leaps for a first down.
Photo By John E.DeFreitas.