Leaving Her Footprints in the Sand
Hannah Ross | 8/17/2010, 10:39 a.m.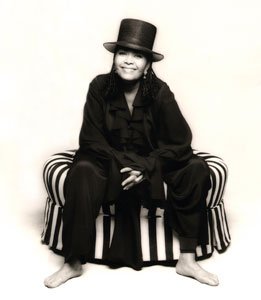 Legendary Jazz Chanteuse Abbey Lincoln Dies, 80

Abbey Lincoln once said that she did not know musically what was before her, when asked of the journey her music began taking about ten years ago. "No one knows. It's sobering, but we're still all-powerful human beings. If you can keep hope, you can live on. And there's the music-it always leaves footprints in the sand," Lincoln said.

And now, on the heels of her death, Aug. 14 following a long illness, Lincoln, whose ability to move fluidly from jazz singer to actress and civil rights activist made her one of Black America's most beloved treasures, it is the footprints of her musical legend that remain.

Born Anna Marie Wooldridge on August 6, 1930, in Chicago, Ill., Lincoln grew up on a farm in rural Michigan. One of twelve children, Lincoln developed an interest in music at an early age.

Lincoln's calm camera demeanor and natural presence on film caused Hollywood to slate her, the Black Marilyn Monroe. Above, Lincoln is shown with actor Ivan Dixon in the theater poster for Nothing But A Man. - Courtesy Photo

Lincoln started her career singing in nightclubs and dinner theaters in the early 1950s -- first in Honolulu and later in Chicago and New York. While performing at the Village Vanguard in Greenwich Village, she met drummer and bebop innovator Max Roach, who introduced her to modern jazz, and to a performing style influenced by the new Black consciousness.

After Roach and Lincoln married in 1962, they recorded a series of albums together, where Lincoln was backed by jazz legends such as Sonny Rollins and Eric Dolphy. Her songs became less pop-based and began to reflect her growing involvement in the civil rights and black pride movements.

Lincoln sang the vocal tracks on Roach's album We Insist! Freedom Now Suite, the now-famous civil-rights document. While recording throughout the '60s, she also took to Hollywood, starring in 1964's Nothing but a Man, about a young black couple in the South, and then co-starring in the 1968 romantic comedy For Love of Ivy opposite Sidney Poitier. Lincoln and Roach divorced in 1970.

In 1972, Lincoln traveled to Africa after a 10-year hiatus from recording. There, she was given the name Aminata Moseka by the president of Guinea and Zaire's minister of information. She used the names Aminata Moseka alongside Abbey Lincoln to represent her African heritage. She also began to write stories.

In later years, she inspired a series of younger jazz singers, including Cassandra Wilson and Lizz Wright, who both cited Lincoln as an inspiration for their own careers.

In 1990, she appeared alongside Academy Award winning actor Denzel Washington in the Spike Lee's Mo' Better Blues. Eventually, Lincoln began recording again, releasing nine albums after reemerging in the 1990s. Her most recent record, Abbey Sings Abbey, was released in 2007 and featured a dozen songs about self-discovery. Her last album of new material saw her performing her compositions such as "Throw It Away" in new, sparser arrangements.

Roach once said of Lincoln before his own death in 2007, "I cannot say that Abbey sounds like Billie Holiday, but she is original like Billie Holiday. Abbey deals with the real word. ... Singers like Abbey, Billie Holiday, Bessie Smith ... go beyond being jazz singers because they are storytellers," Roach said.
Lincoln received the Jazz Masters Award from the National Endowment for the Arts in 2003. She is survived by her brother, David Wooldridge.