Mystics Make Playoffs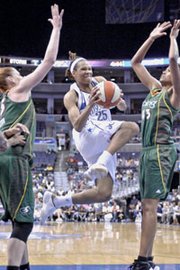 The Washington Mystics have earned a playoff berth following an 80-71 victory over the Seattle Storm on Sun., Aug. 15, at the Verizon Center in Northwest. The Mystics' 19th victory is a franchise record. Washington is currently two games out of first place with three games remaining in the regular season. Playoff games are slated to begin on Wed., Aug. 25. The winner of the three-game series will move to the Conference Finals.

Monique Currie made five three-pointers and scored 25 points. Crystal Langhorne scored 15 points and Lindsey Harding added 13 points for the Mystics, who have won three straight and five of seven. The Mystics play their final home game on Fri., Aug. 20, at 7:00 p.m.
"Monique Currie had two big games against us this year. She's going to be most improved player in mind. From what she was as a role player to what she is now -- and that is a go-to player in a tough conference -- she's really playing well" said Seattle Coach Brian Agler. Photo by John E. DeFreitas.