Local Businessman Receives FedEx Small Business Honor
WI Staff | 8/25/2010, 11:13 a.m.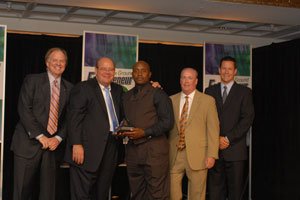 Rico Calhoun,who received FedEx Ground's highest small business honor. Mr. Calhoun and his wife Meleatha certainly capture the entrepreneurial spirit and have an inspiring story of success in these tough economic times. Rico Calhoun, who served in the Army and grew up in the District, first contracted with FedEx Ground in September 2008 and in just three over years, Mr. Calhoun has built a business that has estimated gross revenues exceeding $500,000.

Meleatha is also a 16-year veteran of the District of Columbia Police Department and in addition, the two own a local catering company - Calhoun's Personal Chef Service.For seven years, Rico Calhoun worked as a second-van driver operating out of the Washington, D.C. station. Then, when the ISP model was introduced in Maryland, he embraced the concept and founded Majestic Transportation, Inc.
Today, the business consists of seven delivery vehicles and seven drivers servicing a large CSA in the Washington, D.C. area. Majestic Transportation, Inc. requires every new employee driver to provide certified documentation that he or she has completed the Maryland Driver Improvement Program.

Majestic Transportation, Inc. also holds daily safety meetings and offers drivers monetary incentives based on how well they achieve safety goals. In addition to paying drivers a competitive salary, Majestic Transportation, Inc. compensation includes weekend getaways, gift cards and tickets to entertainment events. Plans are in the works for developing a compensation plan, which may include health and retirement incentives.

According to the facility's senior manager, Majestic Transportation, Inc. is characterized by its positive and professional culture. Whether interacting with customers, motorists, the FedEx Sales team or the FedEx Ground management staff, the company's drivers are committed to provide an outstanding experience that reflects well on them and the FedEx brand.

This includes providing new and established customers with personalized attention. Community-minded, Rico contributes to the Capital Area Food Bank and the Big Brothers Big Sisters of America.