Baker Seeks to Strengthen Ties with the District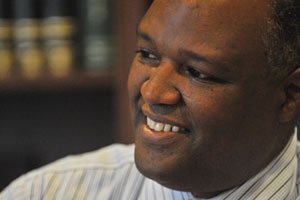 The incoming county executive of Prince George's County wants to build a stronger partnership with the District of Columbia and improve the economic viability of his jurisdiction. Prince George's County Executive-Elect Rushern Baker, in an interview with the editorial staff of the Washington Informer Newspaper on Thu., Nov. 18 at his law office in Greenbelt, said that the District and Prince George's County have not worked together.

"We in Prince George's County and in the District treat our border like it is the Berlin Wall," Baker, 52, said.

"We need to work together for regional cooperation between our county and the city and that can be done whether it is in public safety or economic development."

Baker said that border municipalities such as Fairmount Heights, Seat Pleasant, Capitol Heights and Forest Heights look just like the city's Wards 7 and 8. That is a positive, he said, because Washington and Prince George's can work together to get federal dollars for economic development.

"We need a complete economic scheme between the two jurisdictions," said Baker, who lives in Cheverly.
"The Department of Homeland Security is re-locating to Ward 8 and that will present opportunities for Prince George's County residents and businesses."

The D.C.-Prince George's connection would include the Prince George's County Hospital Center, which has its flagship facility in Cheverly. While it is a Prince George's institution, a number of its patients are D.C. residents who use its services on a regular basis. Baker said he is aware that patients and employees of the hospital "go back and forth" between the two jurisdictions on a regular basis and that could become the starting point for health care and delivery strategies for city and county residents.

He also said that the two jurisdictions can have better coordination in terms of the monitoring of its students.

"A lot of the students in the District and in the county are, unfortunately, mobile," he said.

"For example, a student may stay with his parents or a parent, who lives in the county, for a few months and then move in with a grandparent in the District for a wide variety of reasons. It is in the best interest of D.C. and Prince George's County to keep better track of those students."

Baker suggests that better monitoring will help the student stay on track academically and socially and help the school districts keep more accurate attendance statistics. Working with District leaders would not present a problem because of his contacts in the city, he said. He and D.C. Mayor Adrian Fenty are graduates of Howard University's law school and they have interacted with Montgomery County Executive Isaiah Leggett, who has served as a professor and an acting dean, there.

Baker said that he was impressed with Fenty's Citi-Stat program which monitors the service and operations of city agencies consistently. He said that he will institute a "County-Stat" initiative based on Fenty's model. Baker said that immediately after D.C. Mayor-Elect Vincent Gray won the Democratic Party nomination for mayor on Sept. 14, former Prince George's County Executive Wayne Curry set up a meeting between the two.

"Vincent Gray and I had a very good conversation and I look forward to working with him to move both of our jurisdictions forward," he said.

Baker, a former Maryland state delegate, said that he is friendly with D.C. Council Chairman-Elect Kwame Brown and D.C. Council member Yvette Alexander (D-Ward 7). He said that he knows D.C. Council member Harry Thomas (D-Ward 5) "very well."

While Fenty went to New York City to consult with its mayor Michael Bloomberg and other officials there, Baker went to the Atlanta area to look for similarities and best practices.

"The cities and regions in the Atlanta area are similar to Prince George's County," Baker, a native of Valdosta, Ga., said.

"A lot of the same firms do business in both the D.C. and Atlanta areas and DeKalb County, which is located outside of Atlanta, is the second wealthiest majority Black jurisdiction in the country, next to Prince George's County."

Baker said that he talked with Atlanta's mayor, Kasim Reed and Zachary Williams, the county manager of Fulton County, which includes most of Atlanta, about how they perform their jobs and the type of issues that they deal with.

"These are people that I plan on calling on," Baker said. Baker said that he will work hard to promote Prince George's County as a place to work, play, pray and shop.

"My job will be to sell people on Prince George's County," he said.

"We will work with the Prince George's County Chamber of Commerce as well as the Greater Washington Board of Trade to let business know that our county is a good place to set up. With transit-oriented development around the county's Metro stations, particularly the New Carrollton, Branch Avenue and Naylor Road stations, we will let businesses and government agencies know that things can happen in Prince George's County."