When Big Issues Happen to Little Girls
Hannah Ross | 12/2/2010, 9:11 a.m.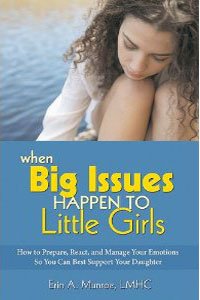 Powerful book helps parents prepare, react and manage emotions to support daughters

Parenting is not easy. Most American parents will agree to having used books, television programs, or professionals to navigate childrearing. Whether it was Dr. Benjamin Spock during the 1940s or Dr. T. Berry Brazelton in the 1980s, parents were able to use bounds of professional wisdom to cope with everything from teething infants to seething teenagers. But the days of Brazelton and Spock have long ended according to some sociologists, and the time has come for a new guide to help parents, particularly of girls, navigate issues of abduction, bullying, and depression.

Erin Munroe, a licensed mental health counselor in Boston believes she has the answers to lead a new generation of young parents though the muck. Monroe manages a confidential teen clinic, and recently penned the book When Big Issues Happen to Little Girls.

It is not another book on "raising girls," or the psychology of girls, or of eating disorders, and body issues. We know those are symptoms and coping mechanisms of greater things, and When Big Issues Happen to Little Girls poses the question: Why are our girls not able to cope? This book answers that question by introducing and explaining the concept that today's young girls are facing adult-sized issues that are not only beyond their own level of emotional, intellectual, and physical capacities but beyond those of their own parents.

When Gen-Xers were growing up their parents were worried about things like kidnappings and how to answer embarrassing questions about oral sex, or about bisexuality or homosexuality, or helping their child deal with divorce. Now, such questions, issues, and rites of passage would be a parental dream.

While they might not have been "ready" to have the sex talk, they were equipped to have it nonetheless. But with issues that have arisen faster than you can say tweet, now grown-up Gen- X parents can't keep up with the tutorials that are required to stay current and understand what their girls are faced with. They literally don't know how to handle the new problems or the psychological and emotional repercussions that come with them, how serious they really are, and more important, where to start.

Erin attended Boston University where she earned her graduate degree in mental health counseling and behavioral medicine. As an undergraduate, Erin attended the College of the Holy Cross, where she majored in English and completed significant coursework in deaf studies. Erin also provides trainings in self-care, relaxation, life balance, and identifying and managing mental illness in the classroom.

Available online and at bookstores or to order directly from the publisher, contact: (800) 441-5569 or www.hcibooks.com.