Rushern l. Baker, III Inaugurated as 7th Prince George's County Executive
WI Staff | 12/7/2010, 12:22 a.m.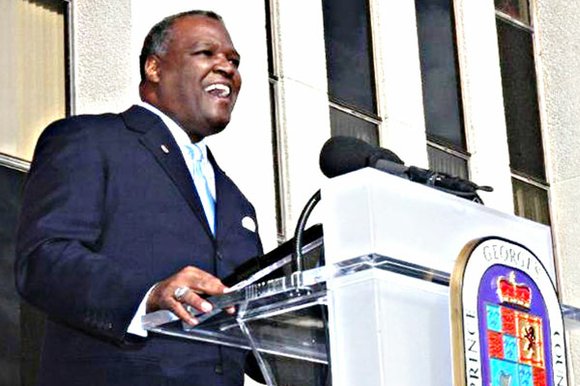 Rushern L. Baker, III was inaugurated on December 6 2010 as the seventh Prince George's County Executive by Prince George's County Judge C. Philip Nichols Jr. Speaking before a crowd of approximately 1,000 county residents and supporters, County Executive Baker sent a positive message of unity to the county to look to the future and the greatness that lies ahead for Prince George's County.

"Today, as we journey down the path to greatness, remember that we will start together and we will finish together," said County Executive Baker. "In one unified voice, we say to people of this state, this region - We are Prince George's County!"

In addition to the swearing-in of County Executive Baker, Prince George's County Council members were sworn in during the ceremony. Local, state, and federal officials from around the state and region were also in attendance including Lt. Governor Anthony Brown, Maryland Comptroller Peter Franchot, Maryland Attorney General Douglas Gansler, Maryland Secretary of State John P. McDonough, Senator Benjamin Cardin, Representative Chris Van Hollen, Representative Donna Edwards, Washington, D.C. Mayor-elect Vincent Gray and former Governor Parris N. Glendening. Former Chairwoman of the Prince George's County Council, Dorothy F. Bailey served as Master of Ceremonies.

"In Prince George's County, we've reached that rare intersection where preparation, attitude and opportunity collide, meaning there is no limit to our altitude!" exclaimed County Executive Baker.

The Inauguration of Prince George's County Executive Baker and the Prince George's County Council was broadcast live for the first time on Comcast channel 70, Verizon FiOS Channel 41, and the county's website, http://www.princegeorgescountymd.gov/. The Inauguration will re-air at the following times - Monday, December 6th at 7pm, Thursday, December 9th at 10pm, and Friday, December 10th at 3pm and 8pm.

Full Text of County Executive Baker's Inauguration Speech:


Pathway to Greatness: The Journey Begins


Good Morning Prince George's County! I don't know about you, but today, I hear opportunity knocking. And thanks to you, I am here to answer it!

Today, we are here to celebrate a new Prince George's County and tell the friends of Maryland, Virginia, and the District of Columbia that the people of Prince George's County are ready for greatness. We will journey down this path with our heads held high until we reach our destination. And what is our destination? It is a Prince George's County that is considered to be the best county in the state of Maryland; a county that people and businesses are clamoring to move into; a county with great schools, a diverse population, safe neighborhoods, growing towns and cities; and, a government that is efficient, transparent and service driven. Today our supporters and critics will leave here knowing that Prince George's County is ready for greatness. Our time is now. We have the skill and the will to be first in education; first in job creation; first in public safety; and yes, first in integrity.

We are on the path to greatness, but this journey will not be without obstacles. We must overcome them, because our greatness will be measured by our ability to rise above the barriers that stand between our goals and us. Yes, we are on the path to greatness, so we must shift our thinking. You see; positive and forward thinking people see challenges not as problems, but as opportunities to make change. Today, Prince George's, we are those people and we will prevail.

Prince George's County Judge C. Philip Nichols Jr. swears in Rushern L. Baker, III Photo by Maurice G. Fitzgerald
Like our great county, I too have been on a journey. My journey began over eighteen years ago when I first sought public office in this county. I ran because I saw our county's potential and I wanted to help us realize and reach it. Eight years ago, I ran for this office after serving in the Maryland House of Delegates. And although I was unsuccessful in my quest, not once, but twice, I never gave up. I never gave up because I believed in myself and this county. I persevered, because years ago, my father challenged me to stop talking and get involved. My father passed away years ago, but I am fortunate to have so many people in my life who support and believe in me. People like my wife and children, who have been with me every step of the way. And then there's my mother, brothers, sister and other family members. I want to thank each of you from the bottom of my heart. Thank you and I love you.

I also had an incredible campaign team along with the thousands of volunteers and supporters. These folks dedicated countless hours of their time knocking on doors, making phone calls, passing out literature and making donations. I thank you for believing in me and working so hard. Not just for me, but for our county. Thank you.

To all the public officials, union leaders and community organizers who provided our campaign with resources and counsel, I thank you for your confidence and your vision for this county. You all played a significant role and I look forward to us working together over the next four years.

And of course, none of this would be possible without you-The People of Prince George's County. Thank you for entrusting me with your future and challenging me to lead this county down the path to greatness. I am humbled by your trust in me and I promise you that I will always put you first. I will also be transparent and honest with you. That, you can count on!

Now, I'm sure some of your thinking "That sounds nice Mr. Baker, but what will be different when I open my eyes tomorrow morning? Tell us how greatness will become our new reality.

You know, that's a good question. It is the type of question you should ask me and other leaders. So to here are some of my answers to how we will create our new reality.

I'm going to start by working to restore confidence in our county government. Overall, I believe we have good people working for our government who are committed to serving you. And I believe that they are critical to the success of this county and your quality of life. This is why I plan to visit every government agency to remind of them of how critical their work is. I will tell them that they must be committed to delivering efficient, effective, and resident-driven service and that it will be the norm in this administration, not the exception. I will remind them that they must be good stewards of your tax dollars being ever mindful that you pay their salaries and fund this government.

We've have begun the process of simplifying access to government services. We will combine CountyStat and 311, which will give you easier access to your government and better tools to control waste and catch fraud.

The ethics reform measures I proposed in May are being drafted and will soon be a submitted to the General Assembly in January. Our first step towards reform will happen this week when I will announce the appointment of a task force that will work on establishing the Office of Inspector General for the County.

We will communicate better, so I will open up the many channels of communications that the government has at its disposal. Why? Because I want you to have access to information. It makes you a better citizen. It makes us a better government.

Let me turn to our county schools. We need to be clear, the charge to our public schools is to prepare our children so they are college or career ready. It is not enough to set a goal of high school graduations. We must expect more.

We must set a clear and decisive path for achieving this enhanced rigor-and stay on that path. Many national and state efforts are currently under way; that's a good thing. We must join those that are promising: push back on those that are proposed, but lack research; and tweak the ones that need improvement.

Some have asked, "Are you planning on taking direct control over the county schools?" My answer is no, but let me say this: I will also not sit idly by and be silent. I believe there is a third way, and that is the role I will seek: using the resources of my office and government to weigh in on the quality and pace of reform, offer suggestions and lend support to our Board of Education and Superintendent Dr. William Hite, to continue moving forward.

We need and will to set the bar higher. Maryland has already joined a multi-state effort to adopt a standard core curriculum, which will be more challenging and is set to be rolled out in 2014. But we need to start preparing our children now.
Newly sworn in County Executive Rushern Baker, acknowledges the crowd. Photo by Maurice G. Fitzgerald

Our teachers are a committed group of people, frequently working under very difficult circumstances. And, they do a great job.

But we can raise expectations with our teaching staff, as well. We need to provide support to our teachers so they can be successful. Brand new teachers and teachers who are struggling need special attention.

We want to make sure to retain our new teachers so they make a long-term commitment to teaching and to our county.

Helping them enter the profession and not simply leaving them to tread water is crucial. At the same time, we must offer support and correction to those experienced teachers who are struggling. If, after systematic support, they are still not able to meet the standards set by the county, they need to be dismissed and counseled into other career options.

The same is true of our school principals and central office personnel. They set the tone in our schools-for the students, teachers and parents.

That's why I plan to visit a school each week so I can see and hear what's working and not working from our principals, teachers, parents and students. I want to ensure that everyone understands the path we are on.

A strong school system will be one of our magnets to attract people and investments. The other will be economic development. In Prince George's County, we've reached that rare intersection where preparation, attitude and opportunity collide, meaning there is no limit on our altitude. From National Harbor in Oxon Hill, to Wegmans in Largo, to Busboys and Poets in Hyattsville and the Konterra Town Center in Laurel, we already have successful development coming and taking place. And this is just a start. But going forward, we are going to do it differently; not deciding development initiatives based on influence...but by policy...a smart growth policy.

We will work with the Washington Metropolitan Transit Authority and the state to let them know we will be the region leader in transit oriented development and yes, we must find ways to be fair, but fast. The opportunity is now.

Creating great schools and a strong economy are important milestones. But there is another factor that is critical to our success and your quality of life: Public Safety. We are obligated to ensure that you are safe in your community and in your home.

We are fortunate to have many dedicated and honest, skilled men and women serving in the Police, Fire, Corrections and Homeland Security departments. Their job is to protect us from harm and tragedy. A job that must be done with pride, dignity, and integrity. Though I am proud of the gains we've made in Public Safety over the past years, and praise those who have worked hard to reach this point; I must stress that better is not good enough. I want you to know that this County Executive will labor passionately and consistently to ensure you live in the safest communities possible. Protecting you and your love ones is the greatest responsibility we have. This is why we must have a Public Safety sector that honors and respects that responsibility without question.

Part of protecting our communities is preserving our environment. My administration will follow the example set by our some of our towns that have already added solar panels to their city halls and buildings, by reviewing our standards for existing and new county buildings. We will take the inspiration from Edmonston, which set a new environment standard for the community. We have the advantage of being able to leap forward and create economic opportunity, while providing a cleaner and even greener county.

And last, but not least, we must improve access to healthcare and services for everyone in this county. Prince George's County Hospital will remain open, but we will also investigate ways to improve our healthcare system.

We will enlist some of the best minds in the county to help us solve this important challenge. To be great, we must focus on our health and wellness.

These are some of the priorities that you have told me you want this administration to address. We will devote and direct the resources of this government to get these things done. However, we can't do any of this work without you. We need you to volunteer, show up at hearings, come to meetings and tell us what we are doing right, and yes, what we are doing wrong.

We need your input, because this journey is one that we will make together.

Ladies and gentlemen, Greatness is not just the destination; it's the path and the journey. Each day, we should be asking ourselves if we are making the effort. Are we making the tough choices, and pursuing excellence? Greatness is not defined by rising to the level of our rivals and it doesn't mean the sky is the limit, it means there is no sky. If history has taught us anything it is that men and women of great will and passion are bound only by their diligence and imagination and willingness to persevere.

We will seize opportunity and conquer our challenges. We will overcome the forces of criticism and skepticism because they will be no match for our collective power and will.

Ladies and gentlemen, you are this county's greatest asset. You fuel our economy and fill our neighborhoods with diversity and energy-you are our heart and soul.

So today, as we journey down the path to greatness, remember that we will start together and we will finish together. Because we are one county with one goal-greatness. And when we reach that place called greatness, we will stand tall with our chest out and our heads held high, beaming from the results of our hard work and perseverance. In one unified voice, we say to people of this state, this region: We are Prince George's County! I am Prince George's County! We are Prince George's County! Let us march on down the path to Greatness together!

Thank you all! God bless you, God bless America and God bless... Prince George's County!