Baker Focuses on Greatness in Prince George's County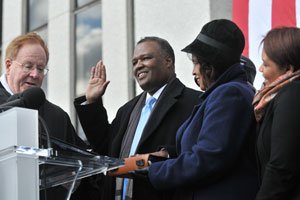 The newly-inaugurated county executive of Prince George's County used one word consistently throughout his address to county residents and interested observers: greatness."

"This is a new day in Prince George's County and Prince George's County is ready for greatness," said Rushern Baker III, who was elected the seventh county Executive of Prince George's County on Tue., Nov. 2.

Baker addressed a crowd of hundreds on Mon., Dec. 6, who gathered in front of the County Administration Building Promenade in Upper Marlboro on a sunny, yet windy and cold morning to attend the swearing-in ceremony.

"We want a Prince George's County that businesses and people are clamoring to be a part of. Prince George's is ready for greatness."

In his 25-minute speech, Baker did not go into a lot of specifics about what his administration will do in order to achieve greatness, but he did talk about maintaining an "open and transparent" government. As expected by political observers, he did not talk about the ongoing scandal with his predecessor, Jack Johnson, and his wife, newly sworn-in County Councilmember Leslie Johnson (D-District 6).

Prince George's County Executive Rushern L. Baker III, addresses the crowd in front of the Prince George's County Administration Building Promenade in Upper Marlboro, Md., on Mon., Dec. 6. Baker becomes the seventh county executive of Prince George's County. Photo by Khalid Naji-Allah
Instead Baker, 52, focused on the positive.

"Our time has come," Baker, a resident of Cheverly, said.

"In Prince George's County, we will be the first in education, the first in public safety and the first in integrity."

Improving the county's school system will be a priority, Baker said.

"We want to make sure that the graduates of our public schools are job ready and college ready," he said, pointing out that two of his children have attended the county's public schools and one is enrolled at Suitland High School in District Heights.

"I am not going to try to take over the school board but I will try a third way. I will use the resources of my office to work with the school board and the superintendent so that we will have a first-rate education system here in the county."

Baker said that he will work with school system leaders to "support good teachers and to keep the good teachers" in the county school system.

He noted that the county has made progress economically with the presence of Wegmans at the Woodmore Towne Centre at Glenarden in Lanham, Md., The National Harbor in National Harbor, Md., and Konterra Town Center in Laurel. However, he said that economic growth should be a part of an overall strategy.

"We need smart policies that will foster smart growth," Baker said.

"This is what will develop this county."

Smart growth includes pushing economic development along the county's Metro stations. Studies have shown that areas surrounding Metro stations such as New Carrollton on the Orange Line, Largo Town Center on the Blue Line and the Green Line's Naylor Road and Branch Avenue are ripe for development in the retail, residential and commercial sectors.

Baker has said that this development strategy is better than the type of "hit-and-miss" economic growth plans of past administrations.

Many political leaders attended the inaugural event, including U.S. Sen. Benjamin Cardin (D-Md.), U.S. Rep. Donna Edwards (D-Md.), Maryland Lt. Gov. Anthony Brown (D), former Maryland Governor and Prince George's County Executive Parris Glendening, former Prince George's County Executive Winifred Kelly and a host of delegates and senators representing the county in the Maryland General Assembly.

D.C. Mayor-elect Vincent Gray and D.C. Council members Marion Barry (D-Ward 8) and Phil Mendelson (D-At-Large) were among those who attended. Gray was received with enthusiastic applause and Barry was cheered wildly, with people pointing at him and taking pictures.

Noting the leaders of the District of Columbia at the event, Baker said that he will use the Fenty model of CitiStat and call it CountyStat to keep track of the performance of county agencies.

"I am going to visit every agency and tell our great employees of the sacred trust that they have to the people of Prince George's County," he said.

Gray said that he was happy to have been invited to attend the event.

"Prince George's County is our neighbor," Gray, 68, said.

"We share borders and we face many of the same challenges in public safety, economic development and education. Not working together would be a lost opportunity."

Baker was sworn into office by Prince George's County Circuit Court Associate Judge Philip Nichols. The master of ceremonies for the event was former District 7 County Councilmember Dorothy Bailey.

Glendening, 68, said that Prince George's is in good hands with Baker at the helm.

"He is a man of intellect and he has the right moral compass," he said. "He is the ideal man for these tough times."