LIGHTS! ACTION! FELA!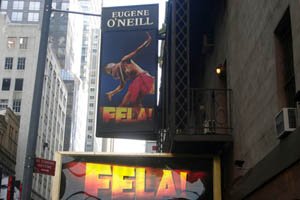 Attendees of Fela! on Broadway are immediately drawn into the world of the Nigerian musician, Fela Anikulapo Kuti as live Afrobeat melodies, rhythms, and red, yellow and green lights embrace them as soon as their feet touch the mesh burgundy carpet of the Eugene O'Neil Theatre in New York. The vibrant lighting contrasting the abstract shapes of luminous color catches your attention as you are enveloped in "The Shrine," Fela's club of 70s and 80s fame in Lagos, Nigeria. The extravaganza opens with dancers plowing the aisles on their way to the stage, decked out in African costumes accompanied by bright face paint and bedazzling face jewels, indicating the show has begun.

Two-time Emmy award winner Kevin Mambo, who plays Fela! for two and a half riveting hours, officially welcomes the audience to The Shrine, his throne - "Everybody say yeah, yeah!," he says in an electric neon pick button down suit jumper which was a signature of the man he plays on stage. When the audience responds with barely audible mumbles, Mambo declares with a look of pure mischief, "Leave that shy sh*t outside, " before demonstrating an unexpected dance lesson.

Fela! is an award winning musical directed and choreographed by Bill T. Jones. Depicting a sliver of the life and times of the late Nigerian musician and political activist Fela Anikulapo Kuti, the production has wowed audiences with its talented cast, vibrant set, and extraordinary choreography. Fela!, formerly off-Broadway, is no ordinary musical; it's an experience. The production features Grammy Award winning recording artist Patti Labelle through January 2, 2011.

Produced by Shawn "Jay-Z" Carter and Will and Jada Pinkett Smith, Fela! recently celebrated its one-year anniversary on Broadway on November 23, 2010. The production has received three Tony Awards for Best Choreography, Best Costume Design for a Musical, and Best Sound Design for a Musical. It is no surprise that it is described by USA Today as "one of the decade's most exhilarating Broadway musicals!"

"I'm really enjoying myself, it's better than what I had expected. I think it's great how they incorporated his music as well as the history of Nigeria, " said Lejuan Moore, a native Washingtonian who flocked to New York for the show.

Fela Kuti was the product of a recipient of the Lenin Peace Prize, and an Anglican pastor whose love for the keys paved his son's way into musicianship. Born originally Olufela in 1938, Fela Anikulapo-Kuti changed the lives of many and inspired nations with his distinct style of music, a fusion sound called "Afro-beat" that he coined after being influenced by distinct genres originating from Latin America, North America, and his native Africa.

It was meant for Fela, as he was affectionately called, to become a doctor, but destiny got in the way. Beyond the hype of the gyrating dancers and pulse of the djembe drummers, the show has some heavy issues that one cannot escape. The music and dialogue of Fela! on Broadway explicitly tackles political oppression of Nigerians during the dictatorial leadership of coup plotters. Fela believed in authenticity, his motto was " Original, No Artificiality!" It was in 1961 that Fela created his first band, Koola Lobitos. He was highly influenced by the life of his dear mother Funmilayo Ransome-Kuti, a militant civil rights advocate and active member of the Nigerian Home Rule Movement, brought to life by the moving image of Patti Labelle, who plays Fela's mother, in self-portraits that align the top of the stage. As the portrait comes to life, Patti Labelle wails out a number that leaves audiences wanting more. "Sing Patti!!!," audience members frantically scream each and every time Labelle takes the stage to wow them with her phenomenal voice.

African-American activist Sandra Isidore, captured by half Liberian songstress Saycon Sengbloh, also influenced Fela's politics and his music. Sengbloh and Mambo are seen traversing the stage talk-singing, with Mambo's tenor alto matching Sengbloh's raspy yet smooth alto. Fela's love and admiration for Malcolm X was a result of their connection, which grew while Fela was on tour in Los Angeles. Isidore introduced him to the politics and work of the global icon, Eldridge Cleaver, and a few other advocates of Black Nationalism. It is clear that Fela's music melded African-America with Africa and the Caribbean, as evidenced by the nationalities of the cast members in the show.

Fela, already influenced by the Nigerian self-determination and anti-corruption movement in his native land, devoted his life and music to the end of political and economic repression throughout Africa and the Black world. His political assembly slogan was Movement of the People. He and his followers were arrested, beaten and tortured and his mother was killed at his expense as soldiers who had come to arrest him threw her from the window of his home.

For many, Fela was a hero. His death in 1997 of an HIV/AIDS related infection devastated musicians, fans, and other political forerunners all over the world. At age 58, Fela left behind a legacy that is still kept alive by his sons, supporters of his movement and music, and most importantly the production of Fela! on Broadway.