Nine Denominations Launch Conference of National Black Churches
WI Staff | 12/10/2010, 12:47 a.m.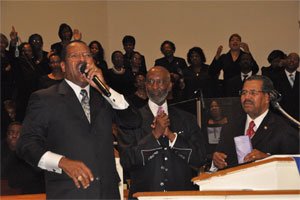 Leadership of the nine largest historically Black denominations announced the launch of The Conference of National Black Churches (CNBC) at the first annual meeting held in Washington, D.C.

The organization, representing a combined membership of more than 30 million people and 50,000 congregations throughout the United States and the African Diaspora, will fill the void for a unified voice of faith advocating on behalf of African Americans and other underserved populations on health, education, social justice and economic empowerment issues.

CNBC is its first annual consultation titled, "For the Healing of Our People," from Dec. 7 - 10, 2010 at the Omni Shoreham Hotel in Washington, D.C. The gathering of faith and community leaders will address targeted social and economic issues, provide clergy and lay leaders training in public policy and honor African American leaders from both the private and public sectors.

"This holiday season's heightened focus will be on the hardships and economic challenges facing many in our churches and across the country," said Dr. W. Franklyn Richardson, Chairman of CNBC's Board of Directors.

"For that reason we chose this time and season to officially launch the Conference of National Black Churches," Dr. Richardson said. "We are focused on channeling our unique voice of faith into advocacy to produce sustainable solutions to pressing issues."

Richardson said the conference is the beginning of a long-term cooperative effort between the denomination using the power of the faith community, the private sector and legislators to resolve the challenges their parishioners face.
The Conference of National Black Churches (CNBC) is comprised of the national leadership of the African Methodist Episcopal Church (AME); African Methodist Episcopal Zion Church (AMEZ); Christian Methodist Episcopal Church (CME), Church of God In Christ (COGIC); Full Gospel Baptist Church Fellowship International (FGBCFI); National Baptist Convention of America, Inc., International (NBCA); National Missionary Baptist Convention of America (NMBCA); National Baptist Convention U.S.A., Inc.(NBC USA); and Progressive National Baptist Convention, Inc (PNBC).

The program also included an ecumenical service with preaching by Bishop Charles E. Blake, Sr., Presiding Bishop of the Church of God in Christ (COGIC) at Israel Baptist Church in Northeast. Honorees at a gala dinner include Ambassador Andrew Young; Pernessa C. Seele, founder and CEO of Balm in Gilead; and Black Enterprise magazine founder and publisher Earl G. Graves, Sr.

For more information about the Conference of National Black Churches and annual consultation schedule of activities, visit www.thecbnc.org.