Redskins Let the Game and Season Slip through their Fingers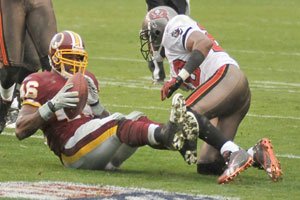 Torain rumbles for 172 yards in front of 66,000 rain soaked fans, but the Redskins' still find a way to lose 17-16 loss to the Tampa Bay Buccaneers Sunday:

The latest equation for a Washington Redskins loss: Two missed field
goals plus a botched extra point attempt equals a 17-16 loss for the Redskins
against the Tampa Bay Buccaneers at FedEx Field in front of a crowd of
66,124 wet and disappointed fans.

Kicker Graham Gano missed two field goals of 34 and 24 yards in the first
half. However, the Redskins still had a chance to send the game into
overtime when Donovan McNabb found wide receiver Santana Moss in the end zone to
bring the Redskins within one. However, the Redskins and their fans were
stunned when Hunter Smith mishandled the hold and the final chance for
victory slipped away.

"I have to look at the films to see what happened," Redskins Head Coach
Mike Shanahan said when talking about both the missed field goals and the
extra point. "Graham has been very consistent for us lately, so we just have
to see what happened. " Shanahan made no statement when asked whether new
kickers will be brought in during the week.

The loss offset a brilliant first half performance by returning running
back Ryan Torain, who rushed for 158 yards averaging close to nine yards per
carry. Torain's yardage was the highest in the first half of an NFL
contest since former New York Giants running back Tiki Barber ran for 171 yards
against the Redskins in October of 2005. Torain finished the game with a
career rushing high of 172 yards. McNabb threw for 228 yards and two
touchdowns. For the Buccaneers, former Dunbar High School standout Arrelious Benn
led the receiving yards with 122 yards on four catches.

The loss is the third straight for the Redskins and they cannot have a
winning record this season. The Redskins are 5-8 while the Buccaneers are now
8-5. The Redskins travel to Dallas for a rematch with the Cowboys at new
Cowboys Stadium.

{gallery}/extras/redskins-12-12-10{/gallery}