Eight File with Democrats to Replace Kwame Brown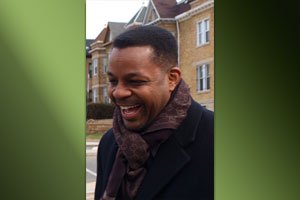 The District of Columbia's official Democratic organization will select the successor to finish the term of D.C. Council member Kwame Brown. Eight individuals will make their case before the D.C. Democratic State Committee on Thu., Jan. 6, to replace Brown who has served as an at-large D.C. Council member since 2005.

Brown, 40, was elected to be the chairman of the D.C. Council on Tue., Nov. 2 and will be sworn into office on Sun., Jan. 2.

Vincent Orange, who served on the Council from 1999-2007, representing Ward 5 in Northeast and who lost to Brown in the Sept. 14 Democratic Party primary for chairman, is considered by many political observers as the front-runner for the position.
"I had a successful tenure while I was on the Council and I see the city in the same place again," Orange, 53, said. Orange is referring to a time when the D.C. financial control board was running the District in the 1990s due to bad management earlier during the decade.

The control board went out of business in late September 2001. Orange, an attorney and a certified public accountant, said that he can help the city during its present financial troubles.

"We are facing a projected $440 million deficit and I have the skill set to help the city out of the crisis," Orange, a resident of Northeast, said.

"My strengths are finance, education, economic development and job creation. I want to create opportunity for all." Others weighed in with their unique expertise.

Sekou Biddle, who represents Ward 4 in Northwest on the D.C. State Board of Education, said that he will bring his expertise in education to the Council, if selected by the D.C. State Democrats.

"I am for public education reform," Biddle, 39, said.

"I can bring a wealth of talent and experience to the position. I grew up in D.C. and I can work with a diverse group of people."

Biddle said if he is selected for the Council, he will not "be distracted by personalities' and will work to serve our children."

Ward One resident and longtime political activist Stanley Mayes said that he wants to put his years of service to good use on the Council.
"I am immensely qualified to serve and I have had leadership roles in all parts of the city," Mayes, 60, said.

"I work well with others and I have been trained in the legal and finance fields. I have the ability to listen to others and will work hard to shape policy that will be beneficial to the citizens of the District of Columbia."

Dorothy Douglas, a Ward 7 member of the D.C. State Board of Education, said that she will work to provide opportunity for all residents. Douglas, 62, a former candidate for the Democratic Party nomination for chairman of the Council, said that she "will be the voice for the people" on the Council.

Efforts by the Informer to reach Kelvin Robinson, Stephen Slaughter and Saul Solorzano were not successful at press time.

There will be a special election for the at-large position, which will likely take place in May.

Jacque Patterson said that he will bypass the D.C. State Democrats selection process and run in the special election.

"I am running because we are facing one of the largest deficits in our city's history and we need to have a city budget that will be fair to people east of the Anacostia River and not just for people west of Rock Creek Park," Patterson, 45, said.

Patterson worked for four years in the Williams administration and is also a former Advisory Neighborhood Commissioner in Ward 8 in Southeast. He's a staunch advocate for affordable housing and promotes his position as a current member of the District of Columbia Housing Finance Agency board of directors.

D.C. political strategist Chuck Thies said that when it comes to the D.C. State Democrats selection process, it looks as if there will be a showdown between Orange and Biddle.

"It will be one of those two, but I will give the edge to Orange," Thies, 46, said.

"This will be interesting because there are some who will run who have chosen not to be a part of the selection, such as Clark Ray and possibly Harry Thomas Jr. There will be a large field of candidates to fill that spot."

Former D.C. Council member Vincent Orange is among several candidates seeking to be appointed to the D.C. Council by the D.C. Democratic State Committee. Photo by Victor Holt.
Biddle, Mayes and Douglas have indicated that they will run in the special election. Orange said he will run in May but expects to be selected and return to the Council.

"I am the national committeeman for the District to the national Democratic Party and I am confident that I have the majority of the votes I need from the state committee to be selected to the Council," Orange said.