Some Residents, Community Leaders Wary about Wal-Mart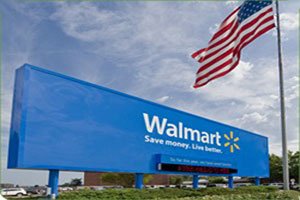 The announcement that the nation's largest retailer wants to set up four stores in the District has some residents and community leaders nervous about its presence in the city and its reputation.

Wal-Mart, the nation's largest discount department and warehouse store, said that it will build four stores in Washington, to be completed by 2012. The stores will be located at the intersection of New York and Bladensburg Road in Northeast, on New Jersey Avenue in Northwest, at the intersection of East Capitol and 58th Streets in Southeast, and at a former car dealership on Georgia Avenue in Northwest.

"We will bring 1,200 jobs and 400 construction jobs to the District of Columbia," Alex Barron,
Wal-Mart's regional general manager for the Delaware, Maryland and Virginia stores, said.

"We want to hire District residents. We want people who live where they work and work where they live."

Wal-Mart was founded in 1962 by entrepreneur Sam Walton and was publicly traded on the New York Stock Exchange in 1972. It is headquartered in Bentonville, Ark., and is the world's largest public corporation based on revenue, according to "Forbes Global 2000" a publication that follows business titans.

Wal-Mart has 8,500 stores in 15 countries with 55 different names.

Despite its success, Wal-Mart has been criticized for its union-busting tactics, paying low wages, skimpy health benefits and selling products from China, which human rights advocates say are produced cheaply under horrendous conditions. There is a case pending before the U.S. Supreme Court dealing with a class action lawsuit filed by several women in the United States who say that they are not paid equitable wages and are not promoted as quickly in relations to their male counterparts.

However, no member of the D.C. Council has raised objections to Wal-Mart's entrance into the District. D.C. Council Chairman-elect Kwame Brown (D) said that Wal-Mart may find many customers in the District.

"People are looking for quality retail," said Brown, who worked for Wal-Mart in management for three years.

"Wal-Mart is welcome here but there are some things that people would like to see. We do not want just cashiers; we want professionals in those stores to be D.C. residents."

Brown, 40, said that Wal-Mart should use local suppliers and local products and take an active role in the community.

"We want a community benefits package," he said. "We want training opportunities for our youth."
D.C. Mayor-elect Vincent Gray (D) is a supporter of Wal-Mart's presence, but said that the company "needs to make sure that they pay D.C. residents a living wage and job benefits."

Even strong supporters of Gray have differing views on Wal-Mart. Barbara Lang, the president and chief executive officer of the District of Columbia Chamber of Commerce in Northwest expressed excitement about Wal-mart in D.C.

"I understand that there are issues that have to be worked out because of the concerns that some people have and they should be worked out," Lang said.

Joslyn Williams, president of the Metropolitan Washington Council, AFL-CIO, supports Wal-Mart's presence but is less enthusiastic than Lang.

"They can come here if they hire D.C. residents," Williams said. "They need to pay a living wage and provide their employees with health benefits and give their employees the right to vote on whether they can join or form a union."

Williams supported Brown's call for a community benefits program.

Wal-Mart representatives held meetings on Tue., Dec. 7 in the neighborhoods that will house the Bladensburg store and the one on Georgia Avenue in Northwest. While residents voiced concerns about traffic and well-known concerns about its anti-union stance and negative effect on small businesses, there has been no concerted campaign to keep the company out of the city.

That comes as no surprise to Louis Jones, an entrepreneur in the District.

"I think Wal-Mart coming here is an excellent idea," Jones, a resident of Southeast, said. "It is long overdue."

When asked about the well-known problems that the company has had with labor unions and small businesses, he shrugs his shoulders.

"Wal-Mart is no different than any other corporation that exploits its labor force for economic survival and to benefit its stockholders," he said. "Why single them out? Wal-Mart no more or less is what America stands for: capitalize on the least of these."

Wal-Mart representatives will hold a Leadership Council Breakfast Meeting with D.C. Council member Yvette Alexander (D-Ward 7) on Sat., Dec. 18 from 9:30 a.m.-12:30 p.m. at a location yet to be determined by Informer press time.

Lang said that it was important for D.C. residents to remember what Wal-Mart will bring to the city.
"We are talking about 1,200 jobs," she said.