Jazz at Lincoln Center Orchestra with Wynton Marsalis
12/20/2010, 11:35 a.m.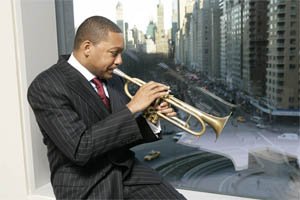 Wynton Marsallis performs at the Kennedy Center on January 30.

The 15-member Jazz at Lincoln Center Orchestra with famed jazz trumpeter Wynton Marsalis returns to perform at the Kennedy Center Concert Hall on Sunday, January 30, 2011 at 7 p.m. The band will perform a wide variety of music, from original compositions to newly-arranged music by Chick Corea as well as selections from its most recent two-disc set CD release, Vitoria Suite, a new extended work by Wynton Marsalis that uses the impulse of the blues as a foundation to jointly explore the music of two worlds and two cultures: the jazz and blues of North America and the indigenous music of the Basque region and flamenco of Spain.

Led by the group's artistic director, Wynton Marsalis, the Jazz at Lincoln Center Orchestra (JALC) is the resident jazz orchestra at New York City's Lincoln Center and spends over a third of the year on tour, performing a vast repertoire from rare historic compositions to Jazz at Lincoln Center-commissioned works. They recently visited Cuba for a six-day series of concerts and workshops in Havana. Last summer alone featured tours of Germany and the United Kingdom, where they spent their first residency at The Barbican. Said London's Telegraph, "Marsalis has created a magnificent instrument over the years. Does there exist anywhere in the world a band so finely balanced across every section, so virtuoso in all its individual parts, and with such an invigorating blend of discipline and joy? The striking thing about these performances is how subtly they honored the originals, by insinuating original touches into them."

The orchestra's members for this tour are: Music Director and Trumpet: Wynton Marsalis; Trumpets: Ryan Risor, Marcus Printup, Kenny Rampton; trombones: Chris Crenshaw, Vincent Gardner, Elliot Mason; Reeds: Walter Blanding, Victor Goines, Sherman Irby, Ted Nash, Joe Temperley; Piano: Dan Nimmer; Bass: Carlos Henriquez; Drums: Ali Jackson.

The orchestra regularly premieres works commissioned from a variety of composers, as well as current and former Jazz at Lincoln Center Orchestra members Wynton Marsalis, Wycliffe Gordon, Ted Nash and Ron Westray. A nine-time Grammy winner and Pulitzer Prize recipient, Marsalis was recently nominated again for an award in the category of Best Improvised Jazz Solo, for "Van Gogh," a track on the Orchestra's "Portrait in Seven Shades" CD.

JALC Orchestra has performed collaborations with the world's leading symphony orchestras, including the New York Philharmonic; the Russian National Orchestra; the Berlin Philharmonic Orchestra; the Boston, Chicago and London Symphony Orchestras; and Orchestra Esperimentale in So Paolo, Brazil. The orchestra appears on numerous recordings and has been featured in several education and performance residencies and radio and television broadcasts in the United States, Europe, South America and Japan. Said one reviewer for El Universal/The Herald, the audience was "weak from applauding and shouting and jumping up and down with the joy of the great music it had heard."

Jazz at Lincoln Center is a non-profit organization that is dedicated to inspiring and growing audiences for jazz through educational programs and performances at a multitude of venues, all of which are designed to "bring people together for a profoundly good time."

Wynton Marsalis was born in New Orleans in 1961 and began his classical training on trumpet at the age of 12. He entered the Juilliard School at age 17 and joined Art Blakey and the Jazz Messengers. He has recorded more than 30 jazz and classical recordings. In 1983, he became the first and only artist to win both classical and jazz Grammy Awards in the same year and repeated this feat in 1984. Marsalis' rich body of compositions includes Sweet Release, Jazz: Six Syncopated Movements, In This House, On This Morning and Big Train. In 1997, Marsalis became the first jazz artist to be awarded the prestigious Pulitzer Prize in music for his oratorio Blood on the Fields, which was commissioned by Jazz at Lincoln Center. Wynton Marsalis' new symphonic work, "Swing Symphony," conducted by Sir Simon Rattle and performed by the Jazz at Lincoln Center Orchestra with Wynton Marsalis and the Berlin Philharmonic, was digitally broadcast live from Berlin to a worldwide audience. Commissioned by the Stiftung Berliner Philharmoniker, the New York Philharmonic Orchestra, the Los Angeles Philharmonic Association and the Barbican Centre in London, "Swing Symphony," which he describes as "two orchestras coming together and swinging the swing," is Marsalis' third symphonic work. The symphony also served as the basis for a new dance work choreographed by Rhys Martin and performed by 170 Berlin schoolchildren at the Arena Berlin in Treptow.

An internationally-respected teacher and spokesman for music education, Wynton Marsalis has received honorary doctorates from dozens of universities and colleges throughout the U.S. He conducts educational programs for students of all ages and hosts the popular Jazz for Young People concerts produced by Jazz at Lincoln Center. He has also written several books, most recently Moving to Higher Ground: How Jazz Can Change Your Life with Geoffrey Ward, which was published in 2009. "In the Swing Seat with Wynton Marsalis," a weekly radio program taking listeners on a journey through the world of jazz, can be heard on Saturdays at 1 p.m. on Sirius XM Radio.

On June 25, 2010, Wynton Marsalis was a recipient of an NEA Lifetime Achievement Award. He was appointed Messenger of Peace by Kofi Annan, Secretary-General of the United Nations in 2001, and he has also been designated cultural ambassador to the United States of America by the U.S. State Department through their CultureConnect program. Marsalis was instrumental in the 2005 Higher Ground Hurricane Relief concert, produced by Jazz at Lincoln Center, which raised over $3 million for the Higher Ground Relief Fund to benefit the musicians, music industry related enterprises and other individuals and entities from the areas in Greater New Orleans who were impacted by Hurricane Katrina.
Funded in part by the D.C. Commission on the Arts & Humanities, an agency supported in part by the National Endowment for the Arts.
WPAS is committed to making every event accessible for persons with disabilities. Please call the WPAS Ticket Services Office for more information on accessibility to the various theaters in which our performances are held. Services offered vary from venue to venue and may require advance notice.

Washington Performing Arts Society has created profound opportunities for connecting the community to artists, in both education and performance. Through live events in venues that criss-cross the landscape of the D.C. metropolitan area, the careers of emerging artists are guided, and established artists who have bonded with the local audience are invited to return. In this way, the space between artists and audiences is eliminated, so that all may share life-long opportunities to deepen their cultural knowledge, enrich their lives, and expand their understanding and compassion of the world through the universal language of the arts.