Del. Howard's Prayer Breakfast Mixes Education, Politics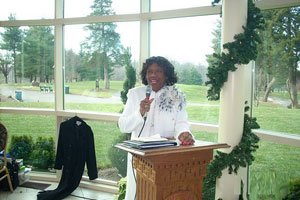 One of Prince George's County's biggest political heavyweights recently hosted her annual prayer breakfast to highlight the importance of education in the county.

Maryland Del. Carolyn J.B. Howard held her fifth annual Education Prayer Breakfast at the Newton White Mansion in Mitchellville, Md., on Thu., Dec. 16. Leaders in education and politics dinned at tables draped in white linen tablecloths and enjoyed a meal that consisted of eggs, grits, sausages, biscuits and assorted fruit while they discussed the local political scene.

"Every child should have access to a world class education in Prince George's County and I am committed to doing that," Prince George's

County Executive Rushern Baker said to a gathering of 50 people.

"I will work with the Board of Education to make sure that we have the best teachers possible for our kids and to keep our superintendent, Dr.
William Hite. He is young, smart and energetic and he is the best superintendent around."

Baker has been a regular at Howard's prayer breakfast as has Maryland Lieutenant Gov. Anthony Brown (D). Brown, who is rumored to be interested in running for governor in 2014, said that the leaders of Prince George's County should rally around Baker.
"We have to speak with one voice and get behind our leader, Rushern Baker," Brown, 49, said.

"Rushern will meet next week with the governor to lay out an agenda for Prince George's County and we must support him in that."
Howard, a former educator in the Prince George's County schools, has served in the Maryland House of Delegates from 1988-1990 and then continuously from March 1991 to the present. She is the deputy speaker pro tem in the House of Delegates and has served as the past chairwoman of the Prince George's County House Delegation and the Legislative Black Caucus of Maryland.

Mickey Burnim, the president of Bowie State University in Bowie, Md., praised Howard for her advocacy of higher education in Maryland. Burnim said that supporting higher education is key for turning the economy around.

"Technically, the Great Recession is over," he said.

"But, if you look at the unemployment rate, one in 10 people are looking for work. I told the graduates of our commencement the other day that if you have faith and confidence, you will succeed even in these tough times."

Burnim said that Maryland political and education leaders have set a goal that by the year 2020, 55 percent of all Marylanders will have a college degree. Presently, around 40 percent of Marylanders hold higher education degrees, he said.

"Those degrees in the years to come will come from STEM, science, technology, engineering and mathematics," he said. "Those are the areas that will be vital to the growth of our state."

Hite, 49, said that high academic achievement is a goal while he is head of the county public schools.

"We believe that all students can be highly successful," he said. "We want our students to be educated by highly qualified, highly effective teachers."

Hite said that it was important for all of the county leaders to go to Annapolis to seek money for the county "with one voice."

Charlene Dukes, the president of the Prince George's Community College and members of the Prince George's County Board of Education, Verjeana McCotter-Jacobs, Donna Hathaway Beck and Carolyn Boston attended the event.

Other political leaders who attended included Prince George's County Council Chairwoman Ingrid Turner (D-District 4), Maryland State Sen. Douglas J.J. Peters (D-District 23), Del. Melony Griffith (D-District 25) and the chairwoman of the Prince George's County House Delegation, Terry Speigner, a member of the Prince George's County Democratic Central Committee, and Prince George's County Councilwoman Karen Toles (D-District 7).

Howard, in her brief remarks, pointed to Toles and county planning expert Tiffany Williams Jennings and asked them to stand.

"I was their principal in elementary school," Howard said.

"I knew that they would do great things even when they were at that young age. That is why education is important."