Focus on Childhood Obesity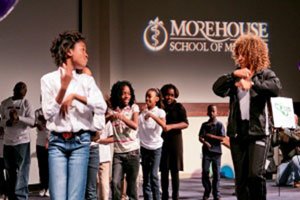 A group of about 25 elementary school students were all smiles and giggles as they began their morning by exercising to the soulful sounds of Jackson 5 in the Morehouse School of Medicine's (MSM) auditorium last week.

The youngsters provided a spirited kickoff to a childhood obesity campaign sponsored by Southern Area of the Links and the Community Voices of the Morehouse School of Medicine (MSM).

The campaign's goal is to prevent childhood obesity in low-income communities across the southeast. MSM President John E. Maupin, Jr. said children can help with this effort by sharing what they learn in school about eating healthy and exercising daily. "One of the things that's happened in many schools is that the students go home and educate the parents," said Maupin, who refers to the students as mentors. "They can teach us, we just have to equip them with the correct information."

Georgia has the second-highest rate of childhood obesity in the nation, according to Childhood's Healthcare of Atlanta, the lead agency for childhood obesity in Georgia. Mississippi has the highest rate. The childhood obesity epidemic is most acute among African-Americans, according to the Centers for Disease Control and Prevention. Twenty-four percent of African-American girls ages 6-11 were overweight, compared to 14 percent of their White counterparts, the CDC says.

Acknowledging the severity of the issue, Atlanta Mayor Kasim Reed attended the kickoff and told attendees how he plans on supporting the campaign. "Obesity is a health crisis and it is disproportionately affecting the lives of children," Reed said. To help fight the problem, Reed said he will reopen all recreational centers in Atlanta next year so children will have a safe place to play and exercise.

Dr. Henrie Treadwell, director and senior social scientist for Community Voices, believes that promoting healthy eating habits also helps reduce obesity rates.

"Researchers have determined that residents of minority communities have fewer opportunities to purchase healthy foods, such as fresh vegetables, because there are far fewer supermarkets in their neighborhoods - Treadwell said in a recent Black News column.

The Atlanta Public School system takes healthy eating seriously, officials say, and has implemented a wellness program that includes several factors to get students involved with nutrition. "Wellness became a priority years ago," said Marilyn Hughes, the director of nutrition for APS. Students "participate in nutrition education (and) physical fitness, not just in P.E. You may see the children doing exercises in math class."