Maudine R. Cooper Honored for 20 Years of Service at the Greater Washington Urban League
12/21/2010, 11:52 a.m.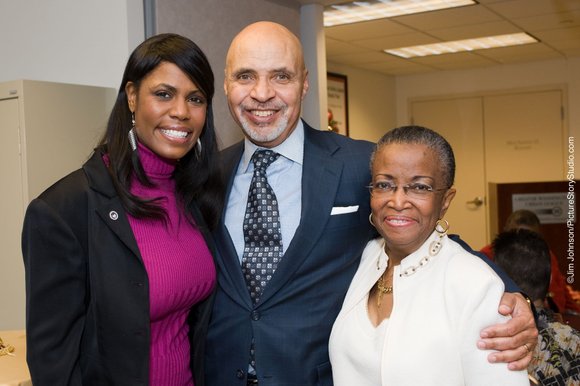 Maudine R. Cooper took the helm of the Greater Washington Urban League as President and CEO in December 1990. A few of her many accomplishments include:
In 1993 she was instrumental in changing the League's name to the "Greater Washington Urban League," to reflect the expansion of its outreach to include Prince George's and Montgomery counties.
In 1992, Ms. Cooper put forth the vision of a young professionals auxiliary dedicated to community service that became the "Thursday Network", GWUL's young professionals auxiliary, which is now over 100 members strong.
In 2004, under Ms. Cooper's guidance, GWUL moved its headquarters to 2901 14th St, NW. By purchasing and renovating the landmark Hines Building, she wanted to ensure the League's continued presence in the community and provide a comfortable facility for persons in need of service.
Through Ms. Cooper's efforts the organizations contribution resources have increased from one million dollars to approximately $25 million.
Mayor Elect Vincent Gray stated in videotaped remarks, "Maudine is the absolute quintessential public servant in the District of Columbia. She is one of the most respected people in the city and I'm delighted she has been there as long as she has. I congratulate her on all the work she has done."
"I can't think of anyone who has done a better job or could do a better job than Maudine has done over these last 20 years. For Maudine, the best way to make the future is to invent it and she is the person to do just that," said Jerry A. Moore III, GWUL Board Chair.
"Everybody knows Maudine and they know her because she contributes so much to the young, to the old, making sure that people get groceries, making sure seniors get feed and youth have scholarships. Maudine is a powerhouse for community service. She is a landmark. Maudine has worked for years at helping others and so this is our way of saying thank you for your 20 years of service." These comments were made may Loretta S. Caldwell during her tribute to Ms. Cooper. Ms. Caldwell has been a member of the GWUL Executive Board for over ten years and was one of the main coordinators of the reception.
Maudine's focus as the President and CEO has been on advocacy, community service, education and volunteerism. She has always been a champion of equal access for everyone. She continually goes the extra mile to make improvement of services that benefit everyone in the Washington, DC metro area. Her strong consensus-building skills have allowed her to bridge gaps between communities, businesses and individuals.
Ms. Cooper has served as role model to her employees who exemplifies the day-to-day dedication to duties that are essential to keeping the League moving forward and serving the community.