New Director Brings Passion for Senior Citizens, Older Adults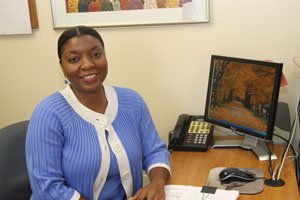 It's an early afternoon in late November.

An energetic young woman walks at a brisk clip throughout the main floor of the Congress Heights Senior Wellness Center in Southeast. Every so often she stops, smiles and chats with the center's clients who saunter at a leisurely pace. They share a laugh together and she asks how they're doing, in an effort to build rapport and imbue the facility with a new perspective on health and wellness.

Meet Sherry Compton, the center's new project director, a petite powerhouse with energy to spare. The native of Canton, Ohio, practices what she preaches by staying fit and focused. Right now, her mission is to provide continuity for the facility programs, while at the same time, preparing the wellness center for the future. Compton has worked in her new position with seniors in Southeast since October.

"I just think they're a population that needs a lot of help -- a lot of resources, and I have a heart for them -- a heart to help them -- in this fast-moving, fast-paced world," Compton said.

Compton, who is in her mid-30s, said that she moved to the District in 2002. During that same year, seniors, their health and wellness piqued her interest while working at the United States Postal Service Headquarters Fitness Center in Southwest where a significant number of clients happened to be older adults. She watched seniors transform their lives by lifting weights for the first time..

The Ward 8 resident said her personal motto is "servant leadership."
"What is a servant? They're going to do whatever needs to get done," Compton said.

She also worked as a health promotions specialist at Providence Hospital in Northeast before being promoted to her current position. Today, Compton oversees a facility that has 600 active members, and continues to grow each month.

"As I'm learning more and more about the position, my job is to just make sure that the river flows," Compton said.

This includes reaching out to the community to tell them about the center.

"I would say community outreach is a great part of the director position. I would say as a director, you have your hands in everything. You want people to feel like things are going to be okay. As a director, you answer all questions, you deal with all complaints. You're a social worker, you're a case manager; you just try to do everything that you can, within the population that you serve," she said. The wellness center is managed by Providence Hospital and receives funding from the District of Columbia's Office on Aging.
Seniors are treated to a variety of activities that include a fitness room, Pilates and yoga, a game room, a computer lab, and legal services, along with health, nutrition, and intergenerational programs.
"What we try to do is make sure we have something for everyone," Compton said.

She feels that she's been well-received by the center's members.

"They're very warm, loving and positive," Compton said.

Alethea Campbell, 78, of Southeast said Compton is a no-nonsense director who maintains an active schedule. Campbell is also one of the founders of the wellness center.

"I love her, she's very energetic," Campbell said.

"She's direct, she has a plan that she tries to follow, and when she asks you to do something, she expects you to do it," Campbell said in terms of Compton's leadership style.

Office on Aging Executive Director Clarence Brown, 62, said that his outlook is positive regarding the facility's future.

"In the end what we want to do is make sure that the city's residents, [specifically] at these wellness centers, that all sites will have highly beneficial and measurable outcomes in terms of health improvements for our seniors in the next five years," Brown said.
In the future, Compton hopes to expand the wellness center, to meet the demands of an increasing membership.

"I think that for the Congress Heights Senior Wellness Center that we are at a place that is welcoming. If you are a D.C. resident and you're 60 or older, and if you're close by we'd be an aid. It would be a great place to come join us," Compton said.