The Linowes Leadership Awards: The Legacy of Robert Linowes
12/28/2010, 11:57 p.m.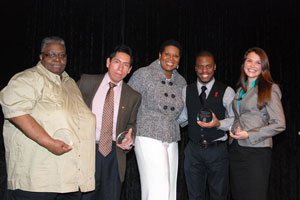 When the late attorney R. Robert Linowes ended his five-year tenure on the Board of Directors for the Community Foundation for the National Capital Region, he never thought he would inspire a Washington institution bearing his name.

The Linowes Leadership Awards, created by the foundation to honor him, is now in its 13th year and has become a part of the culture of charitable giving observed annually.

"[The awards] recognize people in the region who did things for people in the community who would be ordinarily passed over, or not recognized or identified," said his widow, Ada Linowes.

"People don't realize what happens in their communities [on the small scale]. They are usually focused on the larger issues," she said.

The 2010 Linowes Leadership Awards ceremony was held Thu., Dec. 9 at the Ritz-Carlton Hotel in Northwest, attended by community leaders, activists and philanthropists. The most recent recipients of the award are four individuals involved in community activism who are what R. Robert Linowes referred to as the "unsung heroes," people who give of themselves to help out their communities in significant ways. Linowes, who died in 2007, served as board chairman for the foundation from 1992 to 1997, and was considered a visionary in the area of charitable giving.

The Linowes Leadership Awards recognize people from all walks of life and age groups who endeavor to make a difference in their communities, named in honor of Bob Linowes.

"At the time he came on board, the Community Foundation was small, but very active. He realized that this region was one of incredible prosperity, but also incredible needs," said Kathy Whelpley, chief operating officer for the Community Foundation.
"He brought on prominent and influential people. When he came on, we had under $50 million in donations. Today we have more than $350 million."

The 2010 Linowes Leadership Awards recipients reflect the diversity of community activism in the Washington metropolitan area: Edgar Aranda-Yanoc, community organizer and educator with the Legal Aid Justice Center in Northern Virginia; Chris Barnhill, education and curriculum coordinator, Metro TeenAIDS; Allison Baugher, Spanish teacher at Ballou Senior High School; and Evelyn Green, manager of Bethany Women's Center, N Street Village. Most of the recipients come from the population that they serve--Aranda-Yanoc is an immigrant from Peru, Barnhill is HIV-positive since he was 16, and Green first came to N Street Village as an addict.

"The idea is recognition and to inspire them to continue the good work," Whelpley said.

"They get a pat on the back and $5,000. $2,000 they keep directly and $3,000 goes to a charity of their choice. It helps propel people," she added.

Past recipients include Dance Institute of Washington founder Fabian Barnes, who was named one of Oprah's Angels and Patricia Nalls of the Women's Collective, who was among the first to realize that African-American women were most at risk for HIV/AIDS.

"Now, the Women's Collective is an anchor organization for women with HIV, and they get funding from Elton John and the M.A.C. Fund. The winners [this year] are as phenomenal as they were in that 2000 season," Whelpley said.

"One of the interesting and unique things about the awards is [that] we use anonymous spotters in the community," Whelpley said.

"They are business people, government officials, people who work in non-profits and faith leaders. There are at least 50 across the region, and they nominate people who are really active. They submit the names, and the nominees don't know anything about it until they are called."

The rest of the process is conducted by an independent committee selected by the Community Foundation for the National Capital Region staff, which includes Ada Linowes. The committee is comprised of Community Foundation donors, board members, and other local community representatives who select four or five nominees to receive the award.

"Receiving the award is an amazing experience. I always wanted to make a difference in young people's lives, but I never thought that this was award winning work," said Barnhill of MetroTeenAIDS, who teaches young people throughout the District about AIDS prevention and treatment.

"The biggest award is a 'thank you' from the young people, but I am very honored to have received this. I am splitting my charitable award between the National Association for People with AIDS and the Community Church of Washington D.C., where I attend services. As a member, they blessed me so much, why not help them out and bless them as well."