5th Annual MLK PEACEWALK
WI Staff | 12/29/2010, 11:43 p.m.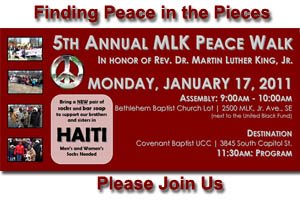 5th Annual MLK PEACEWALK
to commemorate the legacy of Dr. Martin Luther King Jr. The walk begins at 9:30am at 2500 Martin Luther King Ave SE, and ends with a community service at 12pm at Covenant Baptist United Church of Christ at 3845 South Capitol Street SW. Last year, over 1500 people participated in PeaceWalk activities, including the Community Rally & Walk, the commemorative services and Health Fair, as well as collected hundreds of socks to donate to local needy families. The event is free and open to the public. This event is also a kick-off to the MLK Parade of 2012.
Additional Planned Activities Include:
PeaceWalk donation to the Washington DC Martin Luther King Jr. National Memorial Project Foundation.
Performance by Ward 7&8 Mass Youth Choir at Covenant Baptist UCC
Participation by Ballou SHS band
Collecting socks & bar soap for Haiti
Participating Groups to Date:
AFLCIO
American Civil Liberties Union
Anacostia Coordinating Council
Anacostia Economic Development Corporation
Athletic Leadership Institute Inc.
Ballou SHS Band
Calvin Woodland Foundation
Cease Fire Don't Smoke the Brothers & Sisters
Coalition of Returned Citizens
Congress Heights Main Street
Covenant Baptist United Church of Christ
East of the River Clergy (ERCRCP)
Far S.E. Family Strengthening Collaborative
Helping Inner City Kids Succeed, Inc.
JayLee Speaks
Metropolitan Police Department
Opportunities Industrialization Corp.
Peaceoholics
Sasha Bruce
Southern Christian Leadership Conference
Stand Up/Free DC
The Pearl Coalition
Total Sunshine
United Black Fund
United Planning Organization
Veterans and Military Families for Progress
Washington Informer Newspaper
Working in the Spirit Of Excellence, Inc.
Youth Violence Summit