Leukemia & Lymphoma Society's Team In Training DC Resident Runs for Kenny Saffold
Lisa Pagano | 12/29/2010, 5:37 p.m.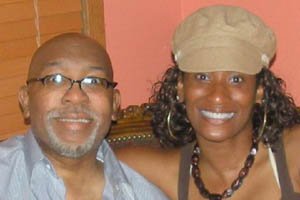 Alva Waller is running for Kenny Saffold, a friend and colleague, who lost his two-year battle with cancer on October 11, 2010. Motivated by Kenny's strength throughout his illness and his dedication towards helping his community, Alva joined The Leukemia & Lymphoma Society's Team In Training program - and set out to raise $3,400 for blood cancer research and patient services. Alva and her teammates will run in the P.F. Chang's Arizona Rock 'N' Roll Marathon on January 16.

"I was mad at cancer in August and was moved by a friend who was running a marathon and raising money in honor of her mother - who had just gone into remission for the second time," said Alva. "I sat with Kenny and told him I wanted to fight the disease for him by running my first marathon. He encouraged me and I signed up to train with the National Capital Area Chapter later that month."

Alva first met Kenny, a graduate of Howard University Law School, in Minnesota in 1995, a chance meeting while working in customer service. Their paths crossed over the years, and in 2001 Kenny was called to jury duty on a case in which Alva was the public defender. She was frustrated by the criminal justice system and ready for a change. Kenny, as General Counsel for the Minnesota Office of the Monitor on the Pigford vs. Vilsack case - African American Farmer class-action lawsuit, encouraged her to apply to work with him. Alva was hired two weeks later and Kenny became a mentor as they worked together on the largest civil rights settlement in history.

Kenny was diagnosed with stage 4 cancer on November 24, 2008, and given only two weeks to live. The cancer was in his lungs, brain, spine, kidneys, liver and stomach by early December. After four months in hospice care, Kenny elected to receive outpatient treatment - chemotherapy, and when the cancer spread to his bones, bone-strengthening treatments. Kenny continued to be a doting husband, father, son and parishioner, while remaining active in his community, mentoring African-American attorneys, ministering to others who were ill, and even serving as the keynote speaker at his high school reunion in June.

However in August Kenny took a turn for the worse, and by mid-September his treatments were stopped.

"I got a call the first week of October about Kenny's status and drove to Minnesota to see him," said Alva. "That night I showed him my Team In Training fundraising page and he was overwhelmed. He told me he would be with me at the race and I know his spirit will be. Four days later, he passed. Now when I run, he is always at the forefront of my mind pushing me to finish and on January 16, that is what I'm going to do."

For more on Alva and her fundraising efforts visit http://pages.teamintraining.org/nca/pfchangs11/awallero2f. To learn about Team In Training the nation's best charity sports endurance training program, visit www.teamintraining.org/nca or call (703) 399-2942.