LeBron James to Join the Miami Heat
7/6/2010, 10:44 p.m.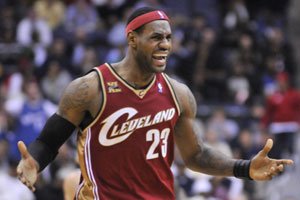 Perhaps the most sought after free agent in NBA history, two-time MVP LeBron James, will be joining the Miami Heat this fall. James joins returning superstar Dwyane Wade and new acquisition Chris Bosh, who spent seven seasons with the Toronto Raptors. James announced his choice during a nationally televised program on ESPN titled "The Decision" on Thursday night.

James stated that the deciding factor in his decision was to play for a team that has an opportunity to win not just one, but multiple championships.

"Winning is a huge thing for me," James said. Contract details are still being worked out, as both Bosh and James will likely make less than maximum deals, which they would have earned by staying with their original teams.

James chose Miami over five other teams that made pitches for him to sign with them, including his former team the Cleveland Cavaliers, the New York Knicks, the New Jersey Nets, the Los Angeles Clippers and the Chicago Bulls.

James, 25, Bosh, 26, and Wade, 28, have played together in several all-star games and in the Summer Olympics in Beijing. All three players have stated that they will take less than maximum salary contracts if necessary, and will make adjustments in their individual games in order to play together to try and create a championship team.

"I can't say it was always in my plans (playing with Wade and Bosh) , because I never thought it was possible. But the things that the Miami Heat franchise have done, to free up cap space and be able to put themselves in a position this summer to have all three of us, it was hard to turn down," James said.

James expressed mixed emotions when he announced his decision, stating that it was difficult to leave Cleveland.

"Akron will always be home for me," James said, admitting that he expected the fans to have mixed emotions about his decision to leave the Cleveland Cavaliers, and understanding that some fans will be angry and disappointed.

"I can't get involved in that. I wanted to do what was best for LeBron James. At the end of the day, I feel awful. I feel even worse that I wasn't able to bring an NBA championship to that city. To my real fans out there, I hope that you'll continue to support me all the way to Miami," James said in response to the fans in Cleveland.

The ESPN special, "The Decision", was held in Greenwich, Conn., in a gym surrounded by members of the Boys and Girls Club. James also announced at the end of the program that all funds raised by the sponsors of the program would go to Boys and Girls Clubs across the country.

"There might be another LeBron James out there in the Boys and Girls Clubs," James said.