Olympic Swimmer Promotes Lessons for Minorities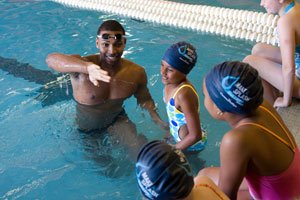 Water Safety, Formal Instruction Key to Preventing Fatalities

Although an Olympic swimmer's message about the importance of water safety was too late to save a six-year-old Northeast girl from drowning last month, many others may be saved by his dedication to promote swimming lessons among minority youth nationwide.

Cullen Jones, the first African-American swimmer to set a world record and win a gold, made a stop in the District on Tue., June 13, where he hosted a series of events to promote "Make a Splash"-- a USA Swimming initiative that aims to promote swimming lessons by providing grant money to lesson providers to advance their programs.

Jones' started his day hosting a breakfast at the Marriott Wardman Park, in Northwest, where he told an audience of nearly 100 about the large numbers of minority children who have inadequate swimming skills - like himself, prior to his mother insisting that he take formal swimming lessons.

"I understand how it feels to be afraid of the water," said the 26-year-old 50-meter freestyle swimmer. "When I was five-years-old I almost drowned."

Jones tells audiences in every city he travels to of his own near-death experience at Dorney Park & Wildwater Kingdom, a water park, in Allentown, Pa., in 1989. His inner tube capsized, but he was determined to hold on because that's what his dad had told him to do. He subsequently blacked out, he said.

Mel Stewart, 41, another Olympic swimmer and gold medalist who spoke at the breakfast, said swimmers, even of Olympic caliber, know to respect the water and are often the most protective when it comes to children's water safety.

"We never swim alone. We have all been in positions where we have gotten a cramp. In an instant you realize it could be your death."

Anyone is capable of drowning, Jones said.
"I love asking kids, 'I'm a gold medalist. I went to the Olympics. How many of you think that I almost drowned?' They never believe it."

Jones admitted he was slow to get back in the water after his frightening experience at the water park, but said after finding a good instructor he soon gained his confidence back. He advises children who are scared of the water to do the same.

"There are certain things I don't know how to do. I would love to learn how to play guitar, but in order to do that, I need to take lessons." Jones said the same goes for swimming: if you don't know how, you absolutely must take lessons.

Tuesday's "Make a Splash" campaign continued at Turkey Thicket Pool, a Department of Parks and Recreation facility in Northeast, where Jones gave several children swimming lessons. Unfortunately, a dark cloud continues to loom over the public pool where young Yiana-Michelle Ballard drowned weeks before, on June 23.

Olympic gold medalist, Cullen Jones provided swimming lessons and encouraged water safety to children at Turkey Thicket Pool in Northeast, Tue., July 13. Photo courtesy of USA Swimming
Ballard was found unconscious in the deep end of the pool and was later pronounced dead at Washington Hospital Center, in Northwest. She was just the kind of young, novice swimmer that "Make a Splash" is determined to reach. Jones said it breaks his heart that in almost every city he travels to, he is usually greeted with the horrific news that a child has recently drown there.

"In Omaha there was a young boy who went to the lake and drowned -- in New York, the same thing."

According to a USA Swimming report, "Nearly 60 percent of African-American children are unable to swim, nearly twice as many as their Caucasian counterparts. Similarly 56 percent of Hispanic and Latino children are unable to swim."

The report also notes that, "African-American and Hispanic children are six times more likely to be part of a family in which neither parent nor child can swim. Overall only 13 percent of children who come from a non swimming household will ever learn to swim."

Monique Major, 22, the manager for the Howard University swim team and a former competitive breaststroke swimmer said African-American children need to just take that first step and sign up for a lesson in order to overcome their fear of the water.

"Like them I was really afraid of the water when I was little. When I put my face in the water it just freaked me out. Once you overcome the fear it's usually not as bad as you think," she said.

Karen O'Shea, the "Make a Splash" program manager, said the nuts and bolts of the initiative are pretty simple. USA Swimming enters into a partnership with a learn to swim provider, which requires an application. Once a swim lesson provider gets its "Make a Splash" status, they then send quarterly reports on various statistics that include how many children are receiving lessons back to the organization.

O'Shea said as providers turn in those reports they then become eligible for grant money when it's available. They can then use those grants to advance their programs as they see fit. Some providers use the money to provide additional staff, some use it to give out scholarships, one woman, who gives free lessons, uses the money to provide transportation to her pool, she said.

Jones said at the time of his near drowning, he didn't know that it could have been his last moment on earth.

"Fortunately, [my mother] had the mindset to give me the life skills and tools to be near water, so that she didn't have to worry about my safety. She got me into swim lessons at the end of the week. Three years later I [participated] in my first swim meet. After my lessons I got so confident," he said with a smile.