New Law Extends Unemployment Benefits Critical for Washington, D.C.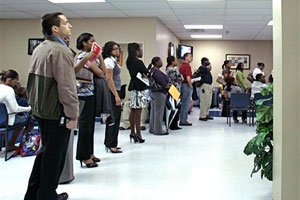 President Obama has signed legislation extending critical unemployment insurance to 2.5 million Americans - including an estimated 7,600 people in Washington, D.C. - who are looking for a job but have not been able to find work before their benefits were exhausted.

The extension of unemployment benefits was one of three important actions this week to help repair the damage to the nation's economy from this recession, and rebuild it on a stronger foundation. Other key actions:

Wall Street Reform becomes law. This legislation contains the toughest financial reforms since the ones created in the aftermath of the Great Depression. It will bring greater accountability to Wall Street, and provide greater security to families and small businesses on Main Street. The financial industry is central to our nation's ability to grow, prosper, compete, and innovate.

"First, I signed a Wall Street reform bill that will protect consumers and our entire economy from the recklessness and irresponsibility that led to the worst recession since the Great Depression. It's a reform that will help us put a stop to the abusive practices of mortgage lenders and credit card companies, and ensure, that people get the straight, unvarnished information that they need before they take out a loan or open a credit card.

It will bring the shadowy deals that caused the financial crisis into the light of day. And it will end taxpayer bailouts of Wall Street firms and give shareholders a say on executive compensation," Obama said.

This law will help to foster that innovation, not hamper it. These reforms will put in place the strongest consumer protections in history, which will be enforced by an independent agency whose sole job is to establish rules of the road and enforce these protections to look out for the American consumer. Because of financial reform, the American people will never again be asked to foot the bill for Wall Street's mistakes.

There will be no more taxpayer-funded bailouts -- period. If a large financial institution should ever fail, we will have the tools to wind it down without endangering the broader economy. And there will be new rules to prevent financial institutions from becoming "too big to fail" in the first place, so that we don't have another AIG.

"The need for this reform, by the way, was underscored by the report issued by Ken Feinberg this morning, identifying a number of financial companies that continue to pay out lavish bonuses at the height of the financial crisis even as they accepted billions of dollars in taxpayer assistance," Obama said.
Government inefficiencies are a prime target. President Obama came into office determined to change the way Washington works for the American people.

That means working to build a government that is more open, more transparent, and more responsive to the needs of its people; and that is focused on getting rid of the waste and inefficiencies that squander the hard-earned money of American taxpayers.

One of the core responsibilities of government is to steward the tax dollars of the American people wisely and well. And yet each year, the federal government makes billions of dollars in improper payments to individuals, organizations, and contractors. That's why the President signed into law this week the Improper Payment Elimination and Recovery Act, an important step toward realizing the President's new goal of reducing improper payments by $50 billion between now and 2012.

Since the first week of June, Senate Republicans had stonewalled the extension of unemployment benefits to 2.5 million Americans, including an estimated 7,600 people in Washington, D.C. The Senate was able to overcome these parliamentary maneuvers in order to provide much-needed support to middle-class families.

This bipartisan legislation requires every federal agency to conduct annual assessments to determine which of their programs are at risk of making improper payments; and to audit more of their programs and recapture more taxpayer dollars. And there are now rigorous enforcement mechanisms to hold agencies accountable for how much money they save.

Obama said that the small businessmen and women who write to him daily cannot afford continued political wrangling and need real, concrete assistance.

"With this small business bill, we'll set up a new lending fund to help community banks offer small businessmen and women the loans they need to grow and to hire. We'll help states encourage more private sector loans to small businesses in industries like manufacturing or construction that have been especially hard hit by this recession. We'll expand our most successful small business initiatives and more than double the size of loans our small business owners can take out," Obama said.