Burgers that taste so good, no one's asking: Where's the beef?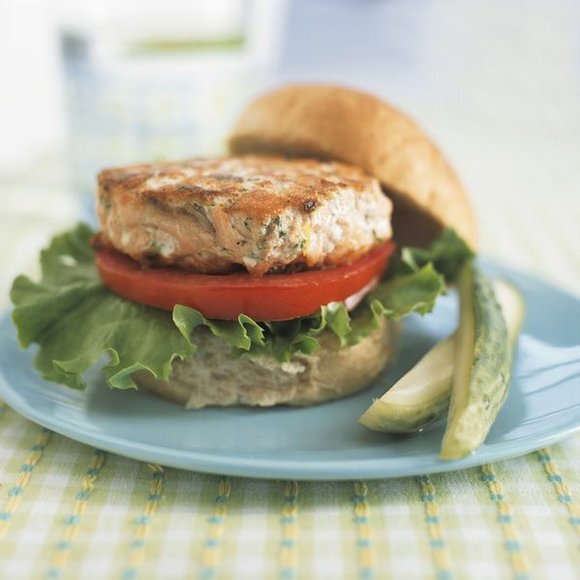 It's time for your annual summer cookout. There was a time when a box of hamburgers and a couple of packages of hot dogs would do it. These days you might want to check with your guests first: You may find some wanting (or needing) to eat a little less red meat.If so, here are some delicious options. Also, check out buildabetterburger.com, where I'll help choose the $100,000 winning burger.Makes 4 patties. This recipe easily doubles. Simply cook the beans in a large skillet with 2 1/2 cups of water and double the ingredients.
1/2 pound dried white beans, soaked 6 hours or overnight in 3 cups of water
2 medium garlic cloves
1/4 cup packed fresh basil leaves
3/4 teaspoon salt
Pinch hot red pepper flakes
1 large egg, plus 1 yolk
1 1/2 teaspoons balsamic vinegar
4 teaspoons olive oil
3 tablespoons each: mayonnaise and pesto, mixed
4 tomato slices, lightly salted
4 whole-wheat sandwich buns
Drain beans and bring them to boil in 1 1/2 cups of water in a medium 10-inch covered skillet over high heat. Reduce heat to medium and continue to cook, covered, until tender but still firm, about 10 minutes. Drain, reserving cooking liquid.
Meanwhile, mince garlic and basil in a food processor. Mix salt and hot red pepper flakes with eggs, along with balsamic vinegar. Transfer hot beans to food processor bowl with garlic and basil; process to a paste. Add egg mixture; continue to process until completely incorporated into bean mixture. Transfer bean mixture to a large bowl, adding cooking liquid if necessary to make a firm, yet pliable mixture. Divide into 4 equal portions and form into patties, 3 1/2- to 4-inches in diameter.
Meanwhile, preheat gas grill, with all burners on high for about 10 minutes. Use a wire brush to clean grill rack, then use tongs to wipe a vegetable oil-soaked rag over it. Close lid and return to temperature. Alternatively, build a hot charcoal fire. Brush burgers with oil; cook, covered, until first side develops impressive grill marks, 4 to 5 minutes. Turn and cook, covered, on remaining side until burger are fully cooked, 4 to 5 minutes longer. Grill buns until spotty brown and warm, just a minute. Spread buns with a portion of pesto mayonnaise, set a burger on each bun bottom. Top with a tomato slice, cap with bun top and serve immediately.
Per serving: 458 calories, 61 g carbohydrates, 19 g protein, 17 g fat (3 g saturated), 58 mg cholesterol, 18 g fiber, 819 mg sodiumHerbed Salmon Burgers with Lemon Tartar SauceServes 61 1/2 pounds skinless salmon filet, finely chopped
1/4 cup chopped fresh parsley, divided
2 Tbs. chopped fresh dill
7 scallions, thinly sliced, divided
2 1/2 tsps. finely grated lemon zest, divided
12 saltines, finely crumbled
1 large egg, beaten
1/2 tsp. salt
1 Tb. olive oil
3/4 cup light mayonnaise
1/4 cup drained chopped capers
6 whole-wheat sandwich buns
4 tsps. lemon juiceThoroughly mix salmon, 2 Tbs. parsley, dill, 6 of the scallions, 2 tsps. of the lemon zest, crackers, egg and salt in medium bowl. Divide into 6 equal portions and form into firm patties. Cover and refrigerate until ready to grill.About 15 minutes before serving, preheat gas grill -- all burners on high for about 10 minutes. Use a wire brush to clean grill rack, then use tongs to wipe a vegetable oil-soaked rag over it. Close lid and return to temperature. Alternatively, build a hot charcoal fire.Brush burgers with olive oil. Place burgers on hot grill rack; cook, covered, until first side develops impressive grill marks, about 3 minutes. Turn and grill, covered, on other side, 2 to 3 minutes. Grill buns until spotty brown, just a minute.Meanwhile, mix mayonnaise, capers, remaining parsley, scallion, lemon zest and the juice. To serve, spread a portion of sauce over each bun half. Set burger on bun bottom. Cap with bun top and serve immediately.Per serving: 399 calories, 31 g carbohydrates, 30 g protein, 17 g fat (2 g saturated), 110 mg cholesterol, 5 g fiber, 998 mg sodiumTurkey Burgers with Goat Cheese, Caramelized Onion and Cranberry RelishServes 62 tsps. Dijon mustard, plus extra for spreading on buns