Summer Concert Series Continues at National Harbor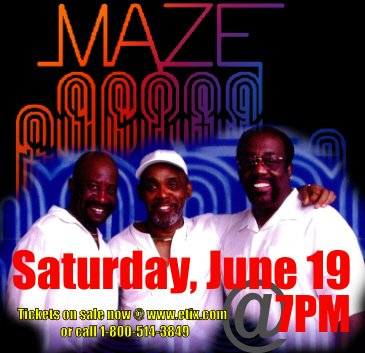 SUMMER CONCERT SERIES "LIVE ON THE PLATEAU AT NATIONAL HARBOR" KICKS OFF JUNE 19TH WITH FRANKIE BEVERLY AND MAZE


The Blackbyrds Are Opening Act : Weekend Performances Include Latin, Gospel, Reggae, and Bolivian Festivals

The legendary R & B group, Maze Featuring Frankie Beverly, will kick-off the summer series of concerts "Live on The Plateau at National Harbor" on Saturday, June 19, 2010 at 7:00 p.m., TAC Productions, the concert organizer announced today. Ticket prices range from $55-78 and are available through www.etix.com or by calling (800) 514-3849 or visiting the National Harbor UPS Store at 145 Fleet Street , National Harbor , MD 20745 .

Overlooking National Harbor in Maryland surrounding the banks of the Potomac in Prince Georges County , The Plateau at National Harbor is a 4,500 seat outdoor summer venue with a covered stage. The location is handicap accessible, features concessions with food and beverages, and offers parking and rest areas for concertgoers.

For nearly thirty years, Maze Featuring Frankie Beverly has created a unique sound and become one of the most influential groups in modern history. His first album in 1976, Maze Featuring Frankie Beverly, yielded a string of hit singles, including "Lady of Magic" and "Workin' Together." The 80's brought the release of the best-selling albums, Golden Time of Day, Inspiration, Joy and Pain, containing a list of chart-topping singles including "Joy and Pain," "Southern Girl," "Travelin' Man," "Feel That You're Feeling," and "Look in Your Eyes," to name a few.

The group gained worldwide appeal with its legendary sold-out live appearances, and released the deluxe album "Live in New Orleans," which captured the energy, excitement and electricity of a Maze stage show and offered a fourth side of new studio material which included the hit single "Running Away".

The opening act for this concert is "The Blackbyrds," the DC-bred, American rhythm and blues and jazz-funk fusion group, led by Donald Byrd, a DC original. Their string of hits included "Walking in Rhythm," "Do it Fluid," "Happy Music," and " Rock Creek Park ."

"We can't think of a better musical group to start the summer concert season at The Plateau than Frankie Beverly and Maze," said Ron Adolph, CEO of TAC Productions. "Their music will set the stage for the warm months to come."

Other concerts during the summer include: Latin Music Festival on Saturday, July 10; Gospel Concert on Saturday, July 24; Caribbean Music Festival, Saturday, July 31st; and, a Bolivian Festival on Sunday, August 1st and more. Details are available at http://www.tac-productions.com.