Fraternizing with the First Brother-in-Law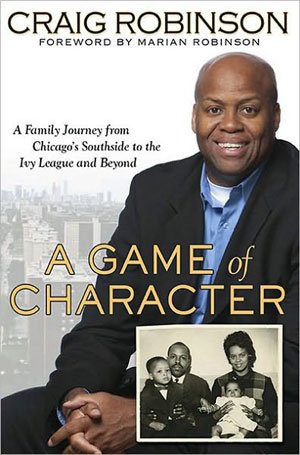 Craig Robinson Pens New Book

Craig Robinson was born in Chicago on April 21, 1962, to Fraser and Marian Robinson and raised in a modest home where he had to share a room with his younger sister, Michelle. With help of devoted parents, who made major sacrifices on their behalf, both children were inspired to excel academically and were admitted to Princeton University.

For Robinson, who stands a towering 6'6", basketball came as easy as academics and he was twice voted the Ivy League Player of the Year during his college tenure. He grew up as a protective shadow around his sister; however, today, those roles are reversed with Robinson in the shadow of his world famous sibling, now the First Lady of the United States.

After playing basketball professionally in Europe, he earned an MBA from the University of Chicago, and entered the world of finance where he enjoyed a meteoric rise until another dream beckoned, namely, to coaching. Craig spent two years as the head coach at Brown, where he spearheaded a revival of the school's flagging program, winning more games in his first two years than any other head coach in the school's basketball history before being named the Ivy League Basketball Coach of the Year.

Currently, Craig, his kids and wife, Kelly, live in Oregon where he coaches Oregon State University's men's basketball team. Here, he discusses his autobiography, A Game of Character, and reflects about his career and about how his life has changed since his brother-in-law, Barack, became President.

KW: I really enjoyed it. How should I refer to you, as the First Brother-in-Law?
CR: [Laughs] You can call me Craig, Coach, or whatever you like.
KW: How does it feel, as a two-time Ivy League Player of the Year, to find yourself suddenly overshadowed by your sister for the first time?

CR: It's ironic, but it's kind of fun for me. As I mentioned in the book, for most of her life, until just a few years ago, she was always known as Craig Robinson's little sister. It's much more fun being Michelle Obama's big brother.
KW: In reading the book, you emphasized the importance of both family and basketball in shaping your character. Which would you say played a bigger role?

CR: I'd say the split is really about 70% family, 30% basketball. The foundation I learned from my parents. It just so happened that my father was into athletics, so he often used sports to reiterate some of the lessons he had already taught me at home.

KW: Seeing politics up close and personal, do you have political aspirations of your own?
CR: I don't have any political aspirations. I so much enjoy coaching. I feel so rewarded having the opportunity to help shape the lives of young people. As to how it feels to be the First Lady's brother, it's really been an eye-opener for me to work on the Presidential campaign, and to get an insider's view of Washington and politics. It was humbling and quite an honor to be able to go around the country and talk about my family. And to see the inner workings of the White House, just from my own inquisitive point of view, has been really interesting. It's been almost all positive.

KW: In the book The Rage of a Privileged Class by Ellis Cose, he the frustrations encountered by many Black professionals upon entering the corporate world. I know plenty of folks like the ones he describes whose careers never fully flourished despite impressive credentials and their showing dedication. Why do you think you, your sister and President Obama have fared so differently?

CR: I haven't read the book, but I'm going to run out and try to find it. I certainly understand the point it sounds like he's making. Having worked in corporate America, the only thing I can say is that growing up in our house Michelle and I were taught to do our best, to be content with that, and not to gauge our success by how much money we made. And we saw that ethic demonstrated every day, watching our father getting up and going to work, despite his being disabled, and my mom working so hard, too.

My parents' prevailing mantra was self-confidence. They taught us not to let anybody else define us, and to not worry about what other people thought. What that does is instill the confidence and determination that you need to compete when things are so much against you.
KW: Who was best player you ever played against? Having read the book, I'd guess your answer is going to be Michael Jordan.

CR: Right. That was in a summer league game.
KW: What was your greatest basketball moment as a player?
CR: The NCAA Tournament my senior year, when we won two games, including an upset of Oklahoma State, is my fondest memory from my playing days.

KW: I read that your mother refers to you as Philosopher-in-Chief. This being the case, what is the wisest quote that you are known for in the family?
CR: [laughing] I don't know that I've been quoted yet.

KW: What leadership/management style do you commit to and why?
CR: As a coach, it involves a lot more teaching and instructing than it did when I was in the business world. I try to get my players to do things that they wouldn't be able to do on their own.

KW: How do you want to be remembered?
CR: As someone who gave more than he took.