Heat Wave Scorches the District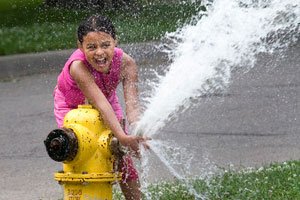 The dog days of summer are rapidly approaching, but an early June heat wave has already seared many District residents and sent them in search of shade.

The National Weather Service reported earlier this month that temperatures have exceeded the 90-degree mark for 16 days. Since Sat., June 19, the temperature has not dropped below 92 degrees. And readings at Ronald Reagan National Airport reached a blistering 100 degrees on Thu., June 24 with no relief in sight.
Area swimming pools and long, tall glasses of ice tea are barely a match for the mid-afternoon highs that continue to drain even the most seasoned Washingtonian and test the endurance of air conditioners.

"When it gets this hot it just zaps all the juice out of you," said Matthew Pellow, 37, the owner of Resurface Inc., an asphalt and concrete resurfacing company in Manassas, Va.

Pellow spent the early morning hours of June 25 overseeing his crew -- breaking up a concrete driveway with an ear-deafening jackhammer in the Mount Pleasant neighborhood of Northwest - in an attempt to beat the mid-day heat.

"All we do is work outside. It's been tough on the guys.... We try to drink a lot of water and work in the shade as much as we can, but you don't get a lot of shade when you're paving parking lots," he said.

Production slows down a little when the weather gets this hot, Pellow said, but his team continues to persevere.

"Some days we put in longer days -- a lot of hours. By the end of it, I don't see how my crew is still moving, but they get up and do it all over the next day -- they're good hard-working guys."

June is typically hot in the District, but based on National Weather Service data, last week, thermometer readings rose more than 10 degrees. Over the past week, beginning June 21, the average temperature has been 96 degrees, compared to 85 degrees in years past.

Pellow said that he doesn't expect any relief in the near future.

"It doesn't look good. Next week looks like it's going to be hot too -- it's brutal. Last year was nice -- we didn't really have that many hot days. I think we're going to pay for it this year.... It usually goes like that -- you get a good year, then you get a bad year. We still work -- we take it as we get it."

For those who can slip away from work for a few hours, local swimming pools have been a source of relief for residents. By the weekend many District pools have filled to capacity, said John Stokes, director of communications for the D.C. Department of Parks and Recreation.

"Pool attendance has progressively increased over the past weeks as the mercury has risen. People are having a great time," he said.

Jasmine Thomas, 21, who lives in the Le Droit Park neighborhood in Northwest, said she decided to visit Banneker Pool on Georgia Avenue last Sunday [June 27] and "chill out" with her friends -- some she said she hasn't seen in a while.

"I grew up in this neighborhood, so it's a lot of the same people. A lot kids are all grown-up now -- so it's nice to see some old faces," she said.

Thomas said she knew it would be a hot summer because of all the awful snowfall during the winter months. But despite the heat and humidity she really enjoyed her first swim of the summer.

"It was nice - it felt good and I am cooler than everyone else walking down the street.... I'll be back tomorrow."

Jeremiah Baumann, 34, who lives a mile from Banneker Pool said he's been doing what he can to stay cool.

"It's really hot. I got the windows open and the fans blowing -- trying to swim when I can."

Baumann who swims laps for exercise, said today's swim [June 27] was strictly to cool off.

"I've only been to Banneker a couple times, but it's fun. It's a nice big pool and there is usually room to swim a few laps," he said.

Stokes said that Washingtonians are flocking in droves to the District's 18 large outdoor pools, five children's pools and five indoor pools, which are free to District residents.

"This was the first year that all of the District's [outdoor] pools have opened by Memorial Weekend," he said.
As of June 21, all District of Columbia pools opened; however, each facility maintains different hours.

For further information about hours of operation and the locations of public pools in the District, visit http://dpr.dc.gov/DC/DPR.