Obama Promotes Fatherhood at THEARC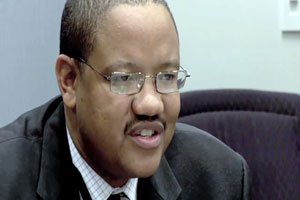 The Obama administration pledged to help fathers become active participants in the lives of their children and has launched a series of initiatives and programs to ensure it happens.

President Obama restated his commitment to men and their roles as fathers, Mon., June 21 at THEARC in Southeast, with U.S. Attorney General Eric Holder, U.S. Rep. John Lewis (D-Ga.), D.C. Del. Eleanor Holmes Norton (D) and D.C. Mayor Adrian Fenty (D) among those in attendance.

"As the father of two young daughters, I know that being a father is one of the most important jobs any man can have," Obama, 48, said.
"My own father left my family when I was two-years-old. I was raised by a heroic mother and wonderful grandparents who provided the support, discipline and love that helped me to get where I am today, but I still felt the weight of that absence throughout my childhood."

Obama said that while "no government program can fill the role that fathers play for our children"; he said that fathers who are trying to do the right thing by their families should be supported. He announced the new program -- The President's Fatherhood and Mentoring Initiative --which he said will help fathers fulfill their role as parents.

Obama appointed Michael Strautmanis, the chief of staff to White House senior adviser Valerie Jarrett, to lead the Fatherhood initiative. He will work with the White House Office on Faith-based and Neighborhood Partnerships and organizations that include the Parent-Teacher Association, Council of Christian College and Universities, and the National Center on Fathering to push its objectives forward.

Strautmanis, 41, and a resident of Chicago, said that the president is serious about what is going on in terms of fathers being active participants in the lives of their children and families.

"This is an issue that the president has talked about for some time because the importance of fatherhood is personal for him," Strautmanis said.
"He wants to support fathers that do the right thing."

Statistics have shown that 64 percent of African-American children live apart from their biological fathers. The U.S. Department of Health and Human Services and the U.S. Bureau of the Census have reported that 63 percent of youth suicides occur in fatherless homes.

Statistics compiled by the U.S. Centers for Disease Control and Prevention show that 85 percent of all children that exhibit behavioral disorders come from fatherless homes. And, 71 percent of all high school dropouts come from fatherless homes, according to the National Principals Association Report on the State of High Schools.

The U.S. Department of Justice, in its Special Report released in September 1988, indicated that 70 percent of juveniles in state-operated institutions come from homes without fathers.

Strautmanis said that administration officials have already taken action to support fathers. U.S. Education Secretary Arne Duncan, U.S. Commerce Secretary Gary Locke, U.S. Department of Health and Human Services Kathleen Sebelius along with U.S. Attorney General Eric Holder have engaged in conversations with the Americans in cities across the country on the issues surrounding fatherhood within the context of the Cabinet departments that they run, he said.

Strautmanis noted that Duncan focused on education, Holder on criminal justice, Locke on fatherhood and the workplace and Sebelius on fathers and health care. Damien Spruell, a single-parent and father of two daughters, said that while he applauds Obama's intent, it appears that fathers have an image problem.

"It seems that there is no such thing as a good father when it comes to custody issues," Spruell, 36, said.

"In court they take the word of the mother and there is retaliation against the father. There is no real accounting for child support funds because you don't even know whether the funds are going to the child," the District resident said.

One of the highlights of Obama's initiative is a father re-entry court that will be managed by the Department of Justice.

"The court will reach fathers who come out of the criminal justice system and help them to pay child support," Strautmanis said.

"We will help those fathers to get involved with their families."

He said that the Fatherhood initiative, which cast a wide net of programs that range from encouraging healthy marriages to economic opportunities, will assist fathers like Spruell.

"Studies have shown that children have more problems when the father is not involved and the president is committed to changing that," Strautmanis said.