The Disciple€s Prayer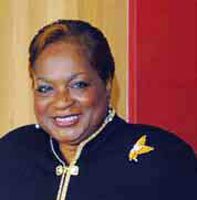 Lyndia Grant

The Lord placed €The Lord€s Prayer€ in my spirit as my topic for this week. We must pay closer attention to what it is we say, when we pray. Jesus taught the disciples in each line, so that each would be covered and not pray with empty or vain repetitions.

The scripture says: In Matthew 6:11; €But when you pray, go into your room and shut the door and pray to your Father who is in secret. And your Father who sees in secret will reward you.

€And when you pray, do not heap up empty phrases as the Gentiles do, for they think that they will be heard for their many words. Do not be like them, for your Father knows what you need before you ask him. Pray then like this:

Our Father, simple means: Holy is thy name. You are the Mighty God, the everlasting Father, and you are the Prince of Peace.

Which Art in Heaven: We thank you God for sending your Son, Jesus Christ down to this earth. We recognize You as deity, The Father; The Son & The Holy Spirit in Heaven.

Hallowed Be Thy Name: Lord You are Sanctified; Consecrated; set apart and Holy! Your name is Holy, and You are Holy!

Thy Kingdom Come: Christians are living in His Kingdom. The word €come€ means, to advance toward a specific place. Here, Jesus is telling the disciples that God is the King, we are living in His Kingdom, and we must work daily to bring more unsaved people, into or to advance toward His Kingdom. God is the King of all Christians.
In earth, as it is in Heaven: Lord, according to the words of the prayer you taught your disciples, earth is your Kingdom, and we should live in it, as if it is in Heaven. We abide in your Kingdom while living here on earth. We must speak to our mountains, when we pray. We must believe in You and we must know your Word is true. When we do that, Your Kingdom will come into reality in our lives right here on earth, and we will live at peace, just as we would as if were already in Heaven.

Give us this day, our daily bread: Tomorrow is over, and the future is not promised to us. Today is ALL we have. And in this prayer, Jesus assured His disciples that we can depend on Him Heavenly Father to give us our daily bread, each day, one day at a time. Just as when Jesus fed 5,000 with three little fish and five loaves of bread. When your food is out, look to Jesus, and what you do have will be multiplied.

And forgive us our debts: Lord we thank you for your forgiveness of our sins (in our thoughts, actions or deeds). We may have thought things that were harmful, and we ask for your forgiveness right now, in the name of Jesus.

As we forgive our debtors: This part of the prayer You taught, You are teaching us that no matter what someone has done to or against us, we are to forgive them. We must cast those debts into a sea of forgetfulness to remain in right standing with you, Lord.

And lead us not into temptation: In this line of the prayer you taught Lord, you are reminding us to depend on Him, Holy Spirit. We are asking Him to lead us and guide us. The Lord God will not tempt us. We are to remember when we are tempted, it is coming from Satan and his empts.

But deliver us from evil: Very key verse! As we pray daily, we€re asking our Heavenly Father to cover us. Though we will surely be faced with the evils of this world; we ask the Lord to deliver us from unseen evils all around us. The Lord promises to deliver us as we walk through the storms of life, trials and tribulations, financial woes, losses of loved ones, and through our personal and business failures in life.

For thine is the Kingdom, and the power, and the glory, forever. Amen: In the closing line, Jesus reminds the disciples that when they pray, that they will acknowledge that they are indeed living in God€s Kingdom, and we€re acknowledging that He is all power in Heaven and in earth, and that He is the Glory, now and forever. Amen.
When you pray daily, be sure to include this prayer that Jesus taught His disciples; read Matthew chapter 6, which says€€And when you pray, do not heap up empty phrases as the Gentiles do, for they think that they will be heard for their many words. Do not be like them, for your Father knows what you need before you ask Him.
Call on Lyndia Grant to speak for your Retreats, Workshops and other Special Occasions. Visit her website at www.lyndiagrant.com, send comments to lyndiagrant@lyndiagrant.com, or call 202-518-3192.