D.C. ROLLERGIRLS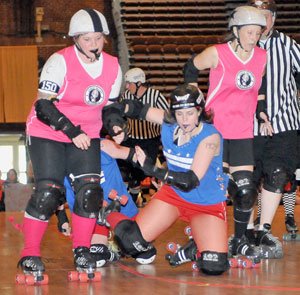 Roller Derby: Lehigh Valley Rollergirls (in pink) take on the Capital offenders, Sat, May 8 at Stadium Armory.Photo by John E. de Freitas

WHO ARE THE D.C. ROLLERGIRLS?
Photos by John E. De Freitas

Formed in 2006, the DC Rollergirls are the National Capital Region's only women's at-track roller derby league. A better question might be, "Who aren't the DC Rollergirls?" The 47 women who comprise the league come from all walks of life - they're teachers, nurses, writers, artists, librarians and work-at-home moms. They entered the sport as both novices and experienced skaters, as seasoned athletes and as former couch potatoes. But they all have one thing in common - they are strong, fierce competitors who are passionate about the sport of roller derby.

Roller Derby is a game that requires speed, strategy, endurance, and some sturdy padding. During the bout Sat., May 8 the D.C. All-Stars battled the Dominion Derby Girls and the Capital Offenders took on the Lehigh Valley Rollergirls. The crowd was entertained by an evening of walloping body checks and lightning-fast maneuvering skills on rollers. Half-time entertainment was provided by the Greenbelt City Stars Rope Team, an exhibition of skillful and exciting single- and double-dutch jump rope enthusiasts.