Religious Corner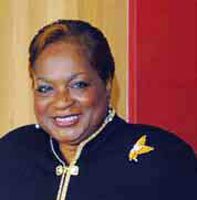 Lyndia Grant

More than a Conqueror, Part 2

Romans 8:37: No, in all these things we are more than conquerors through him who loved us.

This week, I decided to continue my discussion on the topic "More than a Conqueror" from Romans 8:37. Many times we have problems but we give up much too quickly. We must remember that our heavenly Father has equipped us with everything we need. We have the strength within us, especially if we read our bibles and apply the lessons.

I've been writing about these challenging times. Yes, they're challenging; that's because many of us are not living our lives as we should and we're coming up short. We're in the red zone as minority business owners, we're coming up short in most of our churches - tithes have dropped to an all time low - and we're falling short on much-needed dollars for our homes.

The scripture reminds us, especially in Luke 10:19, Behold, I give unto you power to tread on serpents and scorpions, and over all the power of the enemy: and nothing shall by any means hurt you.

Yes, you will be tested, but you have the strength to endure. In fact, Jesus was tested.

Satan said to Jesus, in Luke 4:3, If you are the son of God turn this stone into bread. Jesus said, it is written man shall not live by bread alone.

We are used by the enemy when we really don't realize or intend to be. We speak to others in acerbic tones, as opposed to a civilly tempered manner. Be an encourager. When you feel the need to be abrupt, rebuke the urge. The Holy Spirit will strengthen you, if you only lean on Him.

In the book of Luke 4:13, scripture reminds us: And when the devil had ended all the temptation, he departed from him for a season. But He will come back again.
He will never leave you alone. But greater is He that is in you than he that is in the world.

If you need a job, get someone who knows how to write a quality resume to help you. The scripture reminds us that when we help others, we're storing up our blessing in heaven. So, do something about it. Don't stop until you make contact with at least 200 potential employers.

Unfortunately, in today's society, you've got to complete applications online. So, if you're not computer literate, you will need to find someone who loves you enough that they will be willing to sit with you and actually upload the information as required. That's the only way you will be able to compete in today's job market.

When you call these government agencies and corporations, they will tell you, "We do not accept applications in person; you must apply online." That's a problem for some of us. What do you do, where will you go, how can you get some help? Remember, President Obama recently signed an executive order to eliminate KSA's (knowledge, skills and abilities) requirements for federal employment, effective fiscal year 2011.

Visit your local employment office, the YMCA's, libraries, Work Stop Centers: these organizations all offer services to you, too. But always remember to pray without ceasing.

If you have expertise in a particular area, go online and look for grants that are available to provide work. Visit www.fedbizops.gov. I urge you to see what's out there.

The word of God is the sword of the spirit. Use your sword against Satan and his angels. Angels hearken to the Word of God. When we quote scriptures we cause angels to work in our behalf.

You are, more than a conqueror. Now act like it!

Lyndia Grant is available to speak for your retreats, workshops and other special occasions. She can be reached via her website (www.lyndiagrant.com), email (lyndiagrant@lyndiagrant.com)or phone (202-518-3192).