Howard University Hospital Hosts Weekly Farmers' Market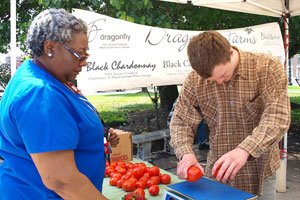 Hundreds of shoppers converged on the grounds of Howard University Hospital in Northwest to scoop up fresh fruits and vegetables during the debut of the hospital's Farmers' Market, Tue., May 11.

Farmers from across the region have started to sell fresh produce on Tuesdays from 3 p.m. to 7 p.m. and on Fridays from 10 a.m. to 2 p.m. in the hospital courtyard.

"I absolutely love that the market is right on 7th Street and visible to people passing by. So many of us are trying to lead healthy lives and it helps to be able to walk just a few feet outside of the hospital or out of your front door and get quality produce," said Frances Ward-Watkins of Laurel, Md.

"The great thing about the farmers that have been brought in is that they honor requests - like the turnips I wanted - and bring in the produce that they know customers want. Grocery stores won't even do that," Ward-Watkins said.

She noted that in an area that was otherwise "produce barren," the market helps hundreds of District residents who live in neighborhoods in close proximity to the hospital maintain their health and dietary goals.

Nutritionists and doctors alike both agree that fresh fruits and vegetables are a staple of a healthy diet, but in African-American communities, where quality grocery stores are scarce, they're not always available. That's been the case for several years in Northwest between the Shaw and Petworth neighborhoods, since the closing of the Safeway grocery at Florida Avenue and 2nd Street.

Susan Lewis, of Dragonfly Farms presents boxes of fresh ruby red strawberries to Frances Ward-Watkins, in the courtyard outside of Howard University Hospital in Northwest, Fri., May 14. Lewis said that the market is great way to stock up on fruits and vegetables before her long commute to Laurel, Md. Photo by Shantela Sherman
To address the problem in Ward 1, Howard University Hospital decided to host a Farmers Market until November to provide the community with a wide range of farm grown fruits and vegetables.

"We want to promote healthy eating and lifestyles for the people in Ward 1," said Davene White, director of Nursing Maternal Child Health and director of HUH CARES.

"We're bringing in regional farmers from Pennsylvania and North Carolina who will be offering wonderful produce that is of the highest quality. You won't get this caliber in a grocery store. Unfortunately, in so many of our neighborhoods, residents don't have access to this food, because stores don't offer it. We're trying to fill that gap."

Dr. Denia Tapscott, a bariatrician and program director for the Center for Wellness and Weight Loss Surgery at Howard University Hospital, said the Farmer's Market will provide a valuable service.

"As you know, obesity is a huge issue for the nation, and particularly for African Americans," Tapscott said.

"One of the contributing factors to obesity is a lack of good nutrients. Much of the food that we eat doesn't have the amount of vitamins we need to make us metabolically healthy, and that happens when you don't get the vitamins and nutrients from vegetables."

The Center for Wellness and Weight Loss Surgery at Howard University Hospital will be featured in Ebony magazine over the next 12 months.

During its inaugural week, the farmer's market attracted scores of hospital personnel along with university students who turned out in droves to shop. Karen Fleet of Bowie, Md. joined the crowds eager to purchase seasonal fruits and vegetables. Fleet snapped up tomatoes, spinach and asparagus. She said that the market provides access and convenience.

"I love that the market is here. This area would benefit from a grocery store or place where healthy cooked foods could be purchased aside from the hospital cafeteria," she said.

"Especially with the students at Howard so close, this market offers an immediate solution to the access we all need to fresh produce."

Other patrons agreed.

Caribbean Ross, 32, said that while the market will help to keep residents on a path towards healthy living, it also helps to support area farmers who have often felt squeezed out by larger grocery chains.

"It is critical that the people who work and live around Howard have access to fresh produce and nuts. I also believe in supporting local farmers by buying locally-grown foods," Ross said.