"County Living" Publisher Named CEO of The Year
11/1/2010, 4:49 p.m.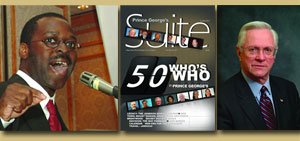 "I work with words every day and I stand here completely speechless," said Publisher Raoul Dennis in his remarks as he was recognized and awarded CEO of the Year by the Greater Prince George's Business Roundtable.

Dennis' humility was brought on by the influence and strength of the Roundtable's board-many of the most influential business leaders in Maryland and the nation--including the top commander at Andrews Air Force Base. County Executive Elect Rushern Baker was in attendance at the meeting as the keynote speaker.
M.H. Jim Estepp, president of the Roundtable, applauded the small publishing company's tenacity and asked Baker to join him in presenting the award.
"We never had a Washingtonian-like magazine in Prince George's County before now,"
he said. "The Suite focuses on the positive things occurring in Prince George's and the people here," he said. "Not only has it survived through leadership and perseverance [through this economic crisis] but we believe it's thriving."
"Raoul Dennis is not only an entrepreneur but someone who demonstrates leadership and under very, very trying times on occasion has been very successful as a result of hard work."
Prince George 's Suite magazine reaches some 100,000 readers in the county and is also available throughout the Washington, DC metro region. Dennis launched the publication, whose name stems from the high-profile options offered at four-star hotels and business locations, with a small group of colleagues in the living room of his home.