A Commitment to Stopping Domestic Violence
Carla Peay | 11/3/2010, 3:01 p.m.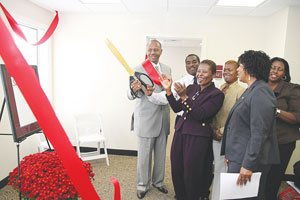 Lolita Jackmon remembers her life being "in a fog" eight years ago, when her husband of 12 years tried to put her head through a wall. She remembers the police taking him away in handcuffs, while she went to a hospital with a broken ankle.

Jackmon describes her estranged husband calling her mother, and saying that his wife "was not the person she pretended to be." With the help of domestic violence advocates, Jackmon survived and now helps others who are in the same situation. But she is quick to stress that no one can do it alone.

"If it hadn't been for programs like this, I would not have made it," Jackmon said.

The program to which Jackmon refers is "Still I Rise," a community based empowerment organization for women, located in Prince George's County. Jackmon is a board member and an active participant in "Still I Rise," founded by Glenda Hodges.

Hodges is the director of the program in Spirituality and Medicine at Howard University Hospital and an ordained Itinerant Elder in the African Methodist Episcopal Church. Hodges is a strong believer in the union between the spiritual and the medical to achieve overall wellness. She is a sought after speaker and lecturer and a well-known champion of the domestic violence issue.

"We have the opportunity to come together to address the problem of domestic violence in Prince George's County," said Hodges, who revealed that the rate of domestic violence cases in the County are worse than any other County in Maryland.

In an effort to combat this trend, Hodges has been tapped to serve as the Director of Domestic Violence Services for District 9 in Prince George's County by incoming Councilman Mel Franklin.

"Homes and lives and childhoods are destroyed by the silence that surrounds this issue. There is an inconvenient truth that surrounds this issue. But we have to do more than wring our hands and condemn with our words," said Franklin, who pledges that domestic violence will be the number one service priority in his District.

Describing Dr. Hodges as "a jewel in Prince George's County", Franklin described the issue as a complex one that will need a partnership effort.

"The battle is with our young men. That is where it starts. We have an obligation in raising our young men in respect and admiration of our women," Franklin said. Also committed to a partnership with "Still I Rise" is incoming Sheriff and former Chief of Police Melvin High.

"I've been in law enforcement for 40 years, and I've seen the hurt and the damage from sexual assault and stalking. We need to assess where we are and where we need to go to support and protect the victims. We don't talk about the reality and the statistics, but the critical issue is that this (domestic violence) is leading to the destruction of our families," High said.

Jane Smith* (a 17-year old high school senior who declined to use her real name) said she now realizes that she was in an abusive relationship with her ex-boyfriend. It started out with what she called games of "slap and tickle", but eventually the slaps became harder, and his language more verbally abusive.

"My parents never got married and I don't see my dad that often. I guess I just wanted to have a boyfriend. After a while, he just started being mean and cruel and saying awful things to me. I figured I just had to put up with it. But when he started grabbing me and ordering me around, I got a little bit scared," she said.
It wasn't until her school's pupil personnel worker noticed a bruise on her arm that Jane realized she was being abused.

She ended the relationship, but said she fears for other young women her age who don't realize what they are getting into until someone else points it out to them.

"I really had no idea what I was doing," she said.

It is this age group that Hodges hopes to prevent from becoming the next cycle of domestic violence victims. "Still I Rise" has received a grant from the Department of Justice's Office of Violence Against women. "Still I Rise" will offer women education advocacy, life skills training and resources.
"If we are serious about trying to improve this problem," Hodges said, "the time has come to stop hiding it."


Domestic Violence Statistics:

According to the American Bar Association's Commission on Domestic Violence:
Approximately 1.3 million women and 835,000 men are physically assaulted by an intimate partner annually in the United States.

Intimate partner violence made up 20 percent of all nonfatal violent crime experienced by women in 2001. Intimate partners committed three percent of the nonfatal violence against men.

In 2000, 1,247 women and 440 men were killed by an intimate partner. In recent years, an intimate partner killed approximately 33 percent of female murder victims and four percent of male murder victims.

According to the U.S. Department of Justice, between 1998 and 2002:
Of the almost 3.5 million violent crimes committed against family members, 49 percent of these were crimes against spouses.

84 percent of spouse abuse victims were females, and 86 percent of victims of dating partner abuse were female.

Males were 83 percent of spouse murderers and 75 percent of dating partner murderers.

50 percent of offenders in state prison for spousal abuse had killed their victims. Wives were more likely than husbands to be killed by their spouses: wives were about half of all spouses in the population in 2002, but 81 percent of all persons killed by their spouse.

In the Black community, statistics show that Black females experienced intimate partner violence at a rate 35 percent higher than that of white females, and about 22 times the rate of women of other races.

Black men experienced intimate partner violence at a rate about 62 percent higher than that of white males and about 22 times the rate of men of other races.