D.C. Primary Debacle Draws Ire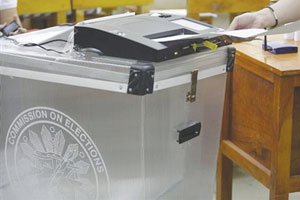 Voters Watch D.C. Board of Elections and Ethics Following Primary Election Fumble

The late reporting of results of the recent D.C. Democratic Party primary and complaints by residents of various problems associated with voting have put the spotlight on the city's election board and its effectiveness in carrying out its mission.

Residents didn't learn that D.C. Council Chairman Vincent Gray had won the Democratic Party nomination for mayor until Wed., Sept. 15 at 1:49 a.m., when the D.C. Board of Elections and Ethics issued unofficial numbers that indicated that Gray had defeated incumbent Mayor Adrian M. Fenty along with a host of other challengers.

Gray, 67, said that even he experienced problems on Tue., Sept. 14.

"The scanner did not work," said Gray, who voted with D.C. Council member Kwame Brown (D-At-Large), at a Southeast precinct.

"As a result, they had to put my ballot and Kwame's in a drawer. I did not think that was a good situation at all."

The District of Columbia has 143 precincts, far less than neighboring jurisdictions that include Maryland and Virginia. Nevertheless, there were issues regarding polling precincts that did not open at their required time of 7 a.m., voting machines that malfunctioned and the unexpected late reporting of results.

The election agency's executive director, Rokey W. Suleman II, issued a report at the request of its board on Oct. 7. The 15-page report, "Report on Lessons Learned from the September 2010 Primary and Preparations for November" talked about the numerous issues that the agency had to confront.

The report included the struggles with the new high-tech voting equipment; the problems with same-day voting, in which people registered and voted on the same day, which is unique to the District; the high volume of absentee voting, with Suleman writing that "it was more reflective of a general election in a presidential election year than a mayoral contest"; and matters relating to military and overseas residents who have to vote electronically.

Despite the glitches, Suleman said that his agency and its employees did well under the circumstances.

"The staff of the Board of Elections and Ethics is entitled to be proud of its performance," he said.

"During the 2010 primary election, they implemented a groundbreaking set of reforms under the watchful eye of the nation. Yet the board defied those projections and implemented a successful election."
Suleman said that the "staff is entitled to hold their heads high because their hard work paid off."

Despite the bad publicity, there were no calls for Suleman's resignation by Fenty, Gray or Mary Cheh (D-Ward 3), the chairperson of the Committee on Government Operations and the Environment.
Cheh, 60, was not pleased with the reporting results of the elections. She said the primary elections process was a "colossal mismanagement," according to the Washington Post website on Wed., Sept. 15.

Early voting for the Tue., Nov. 2 general election took place from Mon., Oct. 18 to Mon., Nov. 1 at One Judiciary Square in Northwest and four satellite locations throughout the city. Voting at satellite locations ended on Sat., Oct. 30.

Douglas Stringer, a resident of Ward One in Northwest voted early -- on Fri., Oct. 29 -- at One Judiciary Square because of a prior commitment and his previous experience on Sept. 14. Stringer said that the process went well overall.

"I always use a paper ballot instead of the touch screen," Stringer, 42, said. "I just don't trust the touch screens."

Stringer, who works as a law clerk, said that his voting experience on Sept. 14 was "trying."

"I vote at the Latin American Youth Center and the lines were long," he said. "I got through it but I did not expect to have to go through so much."

Northwest resident Cheryl Wallace also voted early at One Judiciary Square and said she had no problems.

"It was relatively smooth and I used the touch screen," Wallace, 66, said. "I use the touch screen because it is the latest technology and I like to stay in the loop on that."

Wallace said that she voted at Rudolph Elementary School in Northwest and had no problems with touch screen voting. However, she said that the early morning reporting of the primary election results were "ridiculous."

"In this day and age, it is completely unacceptable for that to happen," said Wallace, who lives in Ward Four. "I had a friend that had to wait 20 minutes to vote because of a technical glitch. I hope they are better prepared on Nov. 2."