Maintenance Woes Continue to Plague Metro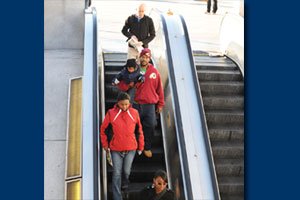 Escalator malfunctions latest in series of mechanical failures.

On the heels of Metro's preliminary report for their Capital Improvement Program to the Metro Board Finance and Administration Committee and at the height of increased ridership, a 20-page internal draft has surfaced alluding to potential escalator brake failures similar to the one that occurred Oct. 30 at the L'Enfant Plaza rail station, during which the escalator accelerated downward for nearly 20 seconds.

Passengers were tossed to the ground at the bottom of the entrance at 9th and D Streets, Southwest. Injuries were considered minor, but included cuts and bruises.
In the report, concerns were raised over the escalator braking system and the aging units' abilities to "stop and hold with [a] full passenger load." The disclosure of this information, however, was not immediately presented to the Board.

"This might very well have been preventable," Council member Jim Graham said. Graham sited the assessment report conducted by Vertical Transportation Excellence, which included an audit of Metro's workforce utilization and procedures, its maintenance management tracking system and a physical audit of 30 escalators and nine elevators at Dupont Circle, Bethesda, Foggy Bottom and Woodley Park--some of Metro's most challenging locations. There were reportedly some areas that required immediate attention or repairs.

Graham said that he was concerned about a lack of adherence given to Metro, though Metro board members only received the report Tues., Nov. 8.
According to Metro, as of Oct. 14, Metro had already taken a number of steps as part of an action plan developed to improve the maintenance of its 588 escalators and 275 elevators following an independent assessment completed this past summer.

"As an important part of the service that we deliver each day, we understand that the performance of the escalators and elevators needs to improve, which is why an independent assessment was conducted," said Richard Sarles, Metro General Manager.

"This assessment now serves as a valuable tool to ultimately improve service. I want to assure our customers that we've started down the long road of improvement."

"Metro is committed to funding and expediting projects that address all of the National Transportation Safety Board's recommendations," said Metro Interim General Manager Richard Sarles. "We will continue to make safety improvement projects a priority as we also work to make necessary infrastructure upgrades that are vital to maintaining the levels of service that Metro currently provides."

Shawn Butler, 28, of Northwest said it is not uncommon to see out of service escalators and elevators in the Metrorail system, though he is alarmed at the thought of malfunctions.

"There are some escalators that have been out of order so long, like the one at Shaw -Howard University, that you don't expect them to ever work. But to hear that the ones that do work have brake problems is scary," Butler said.

Still, like most Metrorail riders, Butler said that he will continue to ride the transit system and is grateful Metro is doing its best to recover from a series of missteps.

"Metro is old and there are a lot of safety issues for them to deal with that should have been addressed years ago, but what do you want? The only thing they can do is move forward and riders need to support their efforts without complaining constantly. I know they are doing the best they can," Butler said.

Metro staff proposes funding several projects that address NTSB recommendations during the next six years as part of Metro's Capital Improvement Program, including: replacing the 1000 series rail cars; replacing all No. 8 mainline switches; conducting a comprehensive safety analysis of the Automatic Train Control system; and developing a program to periodically determine that electronic components in the train control systems are performing within design tolerances.

In addition to funding NTSB recommendations, Metro staff is recommending that the FY2012-FY2017 CIP prioritize state-of-good repair over expansion projects, which include: rehabilitating portions of the Metrorail system between Dupont Circle and Silver Spring and between Ronald Reagan Washington National Airport and Stadium-Armory Metrorail stations; rehabilitating escalators and elevators; upgrading rail and bus maintenance equipment; and rehabilitating and replacing old bus garages, including the Royal Street, Southeastern and Southern Ave bus garages.

The Board will request final approval of the FY2012-FY2017 Capital Improvement Program in June 2011.