CVS Medical Clinic Expands to the Benning Road Area
James Wright | 11/10/2010, 12:24 p.m.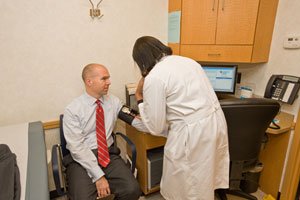 One of the country's largest retail and pharmaceutical companies recently expanded its medical clinic operation to one of the city's most underserved areas. The District now has a new MinuteClinic, owned by CVS Caremark Corporation, located inside its store at 320 40th Street, N.E. in the Benning neighborhood. A celebration to mark the grand opening of the clinic on Mon., Oct 18 attracted CVS corporate officials, staff and Council member David Catania (I-At-Large), who addressed the crowd.

"As chair of the District of Columbia City Council's Committee on Health, I have made it a priority to expand access to quality health care for all District residents," Catania, 42, said.

"By offering convenient and affordable routine medical services, the clinic will go a long way to helping the needs of residents of this community obtain the health care they need."

The MinuteClinic is within walking distance of the Minnesota Avenue Metro station on the Orange Line and the Benning Road Metro station on the Blue Line. A number of Metrobus stops are also located along both corridors. It will serve not only the residents of the Benning-Minnesota area, but also western Prince George's County communities such as Seat Pleasant, Capitol Heights and Fairmount Heights.
It joins the first MinuteClinic to open in the District at 845 Bladensburg Road in Northeast, in the Carver Langston neighborhood. Both of the clinics are open seven days a week and no appointment is necessary to see a MinuteClinic advanced nurse practitioner.

CVS launched the first retail health care centers in the country in 2000 and has approximately 500 locations in 26 states and the District. MinuteClinics can be found inside select stores in Montgomery and Prince George's counties in Maryland and in cities throughout Northern Virginia.

D.C. Council member Yvette Alexander (D-Ward 7) could not attend the event because of illness in her family, said Catania, but released a statement supporting the clinic.

"We are thrilled to welcome the MinuteClinic to Ward 7," Alexander, 49, said. "This is one way to meet the growing demand of health services needed in our community."

The nurses at the MinuteClinics specialize in family health care and are trained to diagnose, treat, and write prescriptions for common illnesses such as strep throat and ear, eye, sinus, bladder and bronchial infections. Minor wounds, abrasions and joint sprains are treated and common vaccinations such as influenza, tetanus, pneumovax and Hepatitis A & B are available at most locations.

There are also screenings designed for healthy lifestyle changes for diseases such as diabetes, high blood pressure, high cholesterol and asthma.
When a patient is treated at the clinic, they are presented with educational materials, an invoice of services rendered and a prescription, if needed. Patients can also obtain a record of the treatment that can be transmitted electronically to a primary care professional, upon requested.

In addition, MinuteClinic practitioners will help patients locate a primary care provider in the community if they do not have one.
Most health insurance is accepted at the MinuteClinic locations in the city, along with Medicaid and Medicare. Cash is accepted and most treatments start at $69.

Since its opening, a number of residents have visited the facility, which is located in the northeast section of the CVS store. The store is open 24 hours. Morgan Sydnor stopped by recently to take advantage of the MinuteClinic services. Sydnor who lives in Northeast wanted a flu shot. He said that he was pleased with the clinic's efficiency.

"I got my flu shot and I have to say that it was quicker than going to the doctor's office," Sydnor, 20, said.

"I did not need to make an appointment. That was good because sometimes getting to see a doctor can take weeks." That's the type of service that Catania likes.

"This clinic is of incredible value to the community and CVS is meeting its corporate responsibility," he said.

"I hope that this is the first of many, many more MinuteClinics."