Prince George's Residents Weigh in on the Arrest of the Johnsons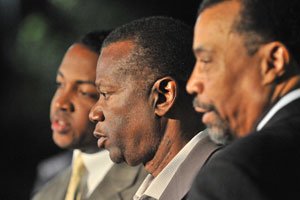 The recent arrest of the Prince George's County Executive and his wife have sent shockwaves throughout the jurisdiction as residents seek to understand what's going on and what it means for the county.

Jack Johnson, the Prince George's county executive and his wife Leslie, who was recently elected to the Prince George's County Council representing District 6, were arrested by FBI agents at their Mitchellville, Md., home on Fri., Nov. 12 for evidence tampering and destroying evidence in an ongoing investigation.

When Sherita Slade, who lives in Greenbelt, Md., heard about the arrest, she wasn't happy.

"I think it is very unfortunate that they got caught up like that," Slade, 28, said. "It seems like you just can't trust these public officials. It is actions like those that make politics and politicians look bad."

The affidavit detailing the arrest said that after 10:12 a.m. on Nov. 12, Leslie Johnson called her husband in a state of frenzy, telling him that there were two FBI agents at their door. The affidavit said that Johnson, 61, told his wife "not to answer it."

The Johnsons were unaware that their cell phones had been wiretapped by the FBI and they were being monitored. The FBI agents heard Johnson tell his wife to find and destroy a $100,000 check from a real estate developer. He approved her suggestion that she tear up the check and flush it down the toilet, which she did.

Johnson also told his wife to put $79,600 in cash in her underwear but she put it in her bra. When she answered the door, the FBI agents found the money on her.

Both of the Johnsons were taken to court and released. Jack Johnson was ordered to wear electronic monitoring and placed under house arrest except to go to his office in Upper Marlboro, Md., while Leslie Johnson, a former administrative law judge in the District, was released on her own personal recognizance.

Legal experts say that if the Johnsons are convicted of the charges, they could each face up to 20 years in prison. Seat Pleasant, Md. City Councilmember Eleanora Simms shook her head when she heard the news.

"Unfortunately, this has come up," Simms, 66, said. "I hope that he is innocent of the charges. I just cannot understand what the deal is."

It has been reported that Johnson and his administration have been under investigation for a number of years on a "pay-to-play" basis for doing business with the county. Basically, in order to get business from the county, one has to "pay" Johnson or his associates in order to get lucrative government contracts or preferential treatment on development properties.

Simms said that while she does not know all of the facts, she is sure that "pay-to-play" does not apply just in Prince George's County.

"This is not a black eye for Prince George's County because I know that this type of stuff goes on other places," she said. "The county government did not do anything wrong on this."

Maryland U.S. Attorney Rod Rosenstein said at a press conference on Nov. 12, that the Johnsons arrest "was the tip of the iceberg."

"We expect additional defendants and additional charges," Rosenstein, 45, said.

Sandy Pruitt, the leader of the countywide civic and political association, People for Change, said that arrests were "embarrassing for the county" but that federal authorities should not just look for corrupt county officeholders.

"The feds should look into the developers who were a part of this mess," Pruitt, 50, said. "The developers should be held accountable. These developers have been milking our county for years but nobody is stringing them up."

Terry Speigner, the former chairman of the Prince George's County Democratic Central Committee, said that Johnson was a political success because he had a way of connecting with people and the arrest was "sad."

"He's a no-nonsense person who could go around a crowd and give every single person the sense that they were the only person who had his attention," Speigner, 43, said. "He was a country boy from South Carolina and he knew how to talk to folks."

Johnson was elected the second Black state's attorney of Prince George's County in 1994. He was re-elected in 1998 and ran successfully for the Democratic Party nomination for county executive in 2002, defeating current County Executive-Elect Rushern Baker.

He also defeated Baker in 2006 in the Democratic Party primary by a small margin. Johnson has been credited with a drop in the county's crime rate and securing an historic AAA bond rating from Wall Street. Johnson has also been credited for the massive National Harbor retail, dining and lodging complex on the banks of the Potomac River in Oxon Hill as well as the recent opening of the chic, upscale Wegman's grocery store at the Woodmore Towne Centre in Glenarden, Md.

Alicia Myers, a homemaker who resides in a gated community in Upper Marlboro, said that Johnson deserves the benefit of the doubt. "The jury is still out on this and I am holding out hope that he is innocent," Myers said. "We need to have more evidence before we pass judgment. I hope and pray that there is a brighter light to this."

Myers, who has a elementary school-aged son, said that the arrest is disappointing considering that he has less than a month left in his eight-year term.
"This will put a blemish on all of the good things that he has done," she said.

Johnson will leave office on Mon., Dec. 6 and relinquish his office to Baker. Leslie Johnson is due to be sworn in that day as a county councilmember and Speigner said that there is nothing that can be done about that.

"She was elected to that position and that cannot be undone," Speigner said. "She can serve on the County Council unless she is convicted. An indictment means nothing."

Michael Fauntroy, an associate professor of public policy at George Mason University in Fairfax, Va., said that the Johnsons are finished in terms of politics.

"They [The Johnsons] have known about this for sometime and there will likely be other charges," Fauntroy, 44, said. "Innocent people do not flush $100,000 down the toilet. Innocent people do not put $79,000 in their panties."

Fauntroy, a resident of Northwest, said that there is a strong history of Black elected officials being harassed by federal law enforcements officers, citing the large number of Black elected officials pursued in the 1980s. Nevertheless, he said the Johnsons' situation isn't that type of case "because they must have done something crazy."

"This arrest is psychologically damaging to Black politics in the county," he said.