Tuskegee Airmen, Airwomen Honored During 70th Anniversary Commemoration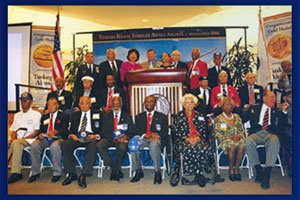 Twenty-two year old Charles McGee was driving to sing at a church musical in south Chicago on Sunday afternoon, December 7, 1941 when he heard the news of the attack on Pearl Harbor.

"It was my birthday. We went on with the show, but I knew that one way or another we were going to be involved in the war."

Seven decades later 90-year-old retired Col. Charles McGee still shutters when he talks about the day that changed his life and the lives of the nearly 1,000 men who came to be known as the Tuskegee Airmen. "I had a draft card and a feeling my number might be called but I never gave any thought to training as an aviation cadet. I don't recall even seeing an airplane when I was young," he said.

McGee, who holds the record for the highest three-war total of fighter combat missions of any pilot in U.S. history, was the featured speaker at the sixth annual Tuskegee Airmen celebration at the Tuskegee Airmen Archive established in 2005.

Despite the repulsive behavior displayed toward the Airmen, their combat record is one that remains unsurpassed," Chancellor Timothy White said in his welcoming remarks. "This archive documents the lives of the Tuskegee Airmen before and after their service to help students learn their history and to ensure that we shall never return to the dark days of ignorance these men and women surpassed," he said.

"People are now beginning to come to grips with our history," McGee said. "Our history is what it is. It's never going to change."

The Tuskegee Airmen were recruited into an Army Air Corps program that trained Blacks to fly and maintain combat aircraft. President Franklin D. Roosevelt had overruled his top generals and ordered that such a program be created. But even after they were admitted, many commanders continued to believe the Tuskegee Airmen didn't have the smarts, courage and patriotism to do what was being asked of them.

Nearly 1,000 fighter pilots trained as a segregated unit at an air base in Tuskegee, Alabama. Not allowed to practice or fight with their White counterparts, the Tuskegee Airmen distinguished themselves from the rest by painting the tails of their airplanes red, which led to them becoming known as the "Red Tails".

Hundreds saw combat throughout Europe, the Mediterranean, and North Africa, escorting bomber aircraft on missions and protecting them from the enemy. Dozens died in the fighting; others were held as prisoners of war.

"The Tuskegee Airmen left a segregated country to fight in a war, and unfortunately returned to one that was still gripped by segregation," said Dr. Nancy Leftenant-Colon, the second oldest surviving Tuskegee Airwoman and first Black nurse in the Regular Army Nurse Corps. "Though Hitler was defeated, prejudice was not... Today America is trying to right that wrong."

"The Tuskegee Airmen serve as a benchmark of excellence, proving integrity first and service before self; a message that continues to inspire our airmen today," said Colonel Abel Barrientes, Vice Commander of the 4th Air Force Reserve Command at March Air Reserve Base.

"There wasn't a question of could we succeed? It was the question, 'If and when will we be given the opportunity to succeed?' And, once we got that opportunity, we seized it," said Theodore Lumpkin, Jr., Vice President of the Tuskegee Airmen Los Angeles Chapter.

The ranks of the aging Airmen are dwindling fast, but 18 of them arrived from across the country to reminisce about what it was like during training, gave interviews, and most of all, pose for photographs and sign lots of autographs.

"They are in their 80s, but just as proud today as they were when they were young and represented their country at a time when they were seen as second-class citizens and not allowed to serve with White troops during World War II," said co-host Col. Ralph W. Smith, CEO of the SCMEB Foundation.

The "Tuskegee Experiment" also included 80 women, two of whom were present at the ceremony. Abbie de Verges and Dr. Nancy Leftenant-Colon, the first and second oldest surviving Airwomen, reunited as friends after not seeing each other in 60 years.

Smith presented crystal seals to de Verges and Leftenant-Colon.

"This is my gift to you and the women who served. You made us proud," said Smith. "I can appreciate how you feel toward me and I thank you," said Leftenant-Colon.

He also introduced matching scrolls that will reside in the Orbach Library, the Oval Office of the White House, the African American Museum in Los Angeles, and the Smithsonian. The 2010 Rose Parade documentary "Tuskegee Airmen-A Cut Above" was shown to honor the Tuskegee Airmen float that won the Mayor's Award and on which 16 Airmen rode New Years Day.

University Librarian, Dr. Ruth Jackson presented the inaugural Distinguished Award to the Archive to honorary fellow Bendrix Bailey. Bailey personally championed the cause and donated $16,000 to honor 384 Tuskegee Airmen and Airwomen with Congressional Gold Medals that were presented by President Bush in 2007.

Community leader, physician and chemical engineer Dr. Ernest Levister presented Jackson with memorabilia from the archives of his alum Lafayette College in Easton, Pennsylvania.

He chronicled the college's unprecedented highly controversial decision to reject an invitation to play in the 1948 Sun Bowl football classic because southern racial customs would have barred Tuskegee Airman and senior halfback Dave Showell. More than 1,000 White students marched into downtown shouting... "We will play, if they let Showell play!"

Levister explained that the students sent off a telegram to President Harry S. Truman and adopted resolutions condemning intolerance in American society. The controversy exposed the exclusion of African Americans in football and became a historic cause celebre for integrating sports in America.
"These men and women not only fought the enemy but they fought racism in the military, in classrooms, and on the football fields of America.

Their actions aided in changing American sports into an industry based on equal opportunity, access, and a new respect for all Americans," said Levister.

The archive is a collection of Airmen's and Airwomen's personal letters and documents, photographs, petitions, posters, diaries, oral histories, honors and awards, art, and other historical resources.