Baker Gathers Local Leaders, Media to Shift News Focus to Hope and Prosperity for the County's Future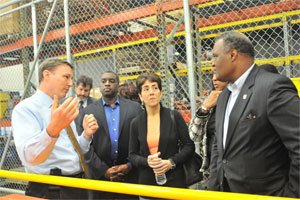 Rushern Baker stared down his first controversial press conference of his prenatal tenure as county executive with all the right moves of a rookie showing early signs of a Hall of Fame career.

"Prince George's County remains the greatest jurisdiction for economic growth in this region," Baker said.

"So despite recent events, these are not sad days in Prince George's County. Unfortunate yes, but the alleged acts of a few in no way should deter the direction of all Prince [Georgians] who are ready to take this county from good to great. Keep your head high. Keep your focus on the path to greatness."


Although at points it may have appeared the soon-to-be county executive had nervous jitters, the meeting with media had a larger effect: to tone down the negative headlines.

Baker's Mon., Nov. 15 statement to media seemed more an effort to stem the tide of conversation about the county away from local leaders being led away in handcuffs and more toward a message of stability and symbol of unity.

"I want to speak directly to the nearly one million residents of Prince George's County," Baker, 50, said at the start of the press conference at the Sasscer Administration Building in Upper Marlboro, Md.

"The incoming leadership of Prince George's County remains committed to you and the greatness we can achieve together."

"Those who have chosen to live in this beautiful county, those who have businesses in this county and those who are looking for new places to start businesses; I want you all to know that the incoming leadership of Prince George's County remains committed to greatness and achieving that together.

We remain focused on kitchen table issues of our residents," he said.

The newly elected administrator cited issues such as jobs, business opportunities, transit development, health care and education.

"We are vigilant in keeping families in their homes, restoring parents' confidence in our school system, providing residents with the opportunity to work and live in peace right here in Prince George's County."

Baker spoke of government function.

"We will deliver a first class government ready to expand on those opportunities and take full advantage of the resources here in the county," he said.

The County Executive-Elect was joined at this press conference by State's Attorney-Elect Angela Alsobrooks, Sheriff-Elect Melvin High, Judge Phillip Nichols, Senator C. Anthony Muse, Senator Douglas J.J. Peters, Delegate Melony Griffith, Delegate Barbara Frush, Delegate Anne Healey, Delegate Derrick Davis, Delegate Jay Walker, Delegate Gerron Levi, Delegate Jolene Ivey, Delegate Michael Vaughn, Delegate-Elect Tiffany Alston, Delegate-Elect Michael Summers, Councilman Eric Olsen, Councilwoman Ingrid Turner, Councilwoman Andrea Harrison, Councilwoman-Elect Mary Lehman, Councilman-Elect Mel Franklin, and Councilman-Elect Obie Patterson.